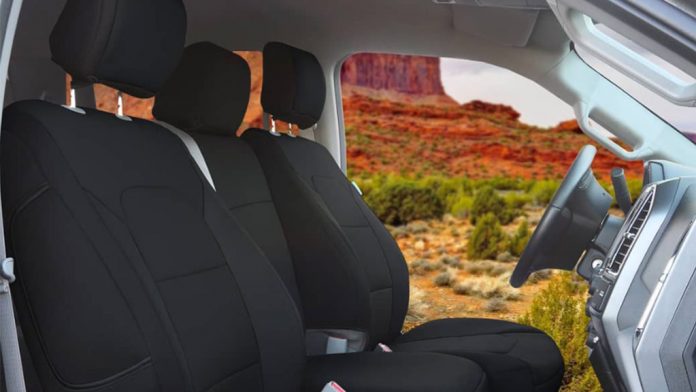 When you buy seat covers for cars, there are different features you want to keep in mind. Your car seat is one place that takes a lot of wear and tear. It's also one of the first things a buyer notices when checking out the vehicle so it's important to protect it.
Comfort
The material used in the seat cover is important. You want something that is going to be comfortable, otherwise, why buy a product that isn't comfortable to sit on?
Breathability
Certain materials will restrict airflow and won't let the skin breathe. The last thing you will need is to be sticking to your seat cover, especially in hot weather, and your skin not being allowed to breathe.
Fit
Does the cover provide coverage for most of your seats? Does it just drape over the seat and expose the headrest or does it cover the majority of the seat? Some car seat covers act more like a fancy towel that just lays over the seat. Ideally, you want a cover that is going to have a tighter fit to allow for a better feel and look. Check to see if the cover has non-slip material or a way to keep the cover in place. This is especially important while on the road.
Durability
You get what you pay for. There are plenty of covers that are going to fall apart after just a few months. If it gets stained or dirty, are you going to be able to clean the cover and not destroy the material? If you spend a lot of time in your car then you want a cover that is going to be durable and hold up to use. If it's not durable, you are going to be paying more money to replace the seat covers often.
Machine Washable
You don't want your vehicle to smell and this can happen if your car seat cover can't be cleaned. Even if you don't live in a warm climate and get a lot of sweat on your car seat cover, drink and food spills can also lead to some odors. Having a cover that is machine washable allows you to get rid of any bacteria and germs before they get a chance to seep into the actual seat.
Waterproof
If you drink liquids in your car or have pets then a waterproof car seat cover can be necessary. What's the point in protecting your seat by using a cover if it won't be fully protected against liquids?
Easy On and Off
If the cover is hard to get on or off then you are less likely to use it and clean it properly. The cover should be easy to get on and off your seat, so you can clean and use it to protect your seats.
Styling
Does the cover match your vehicle? Make sure you want to show the cover off in your car, or you won't get the benefits of using it.