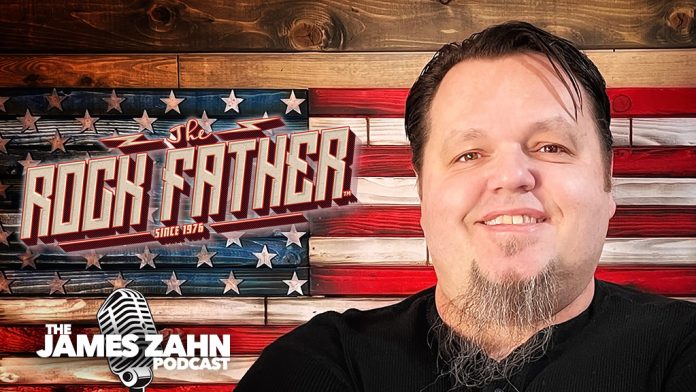 An entertaining, uncensored look at life, business, entertainment, toys, politics, and the world at large with James Zahn aka The Rock Father. A natural storyteller, Zahn is known for his work in the toy industry as Deputy Editor of the Toy Book, and Senior Editor of both the Toy Insider and the Pop Insider. A true multi-hyphenate, Zahn is a media personality and raconteur that has worked as an actor, director, and musician, and has held executive roles spanning entertainment, publishing, retail, and more. He's been seen on Yahoo! Finance, CNN, CNBC, FOX Business, Cheddar, HISTORY, Forbes, and more.
In The Rock Father Podcast, no topic is off the table as Zahn explores current events peppered with personal anecdotes and stories from the archives.
Leave a Voice Message and YOU could be on the show:
Voice Messaging is open, exclusively through Anchor.fm. Simply click the "message" button on the show page and allow access to your microphone to record.
Season One
Trailer: Introducing The Rock Father Podcast with James Zahn
Episode Description: More than 17 years after launching his first podcast — zahnCAST — via MySpace, Zahn returns to the podcast space with a new show in which no topic is off the table.
Episode 1: Allow Me to Reintroduce Myself
Episode Description: In the first episode of The Rock Father Podcast, host James Zahn serves up an overview of his history with the medium of podcasting and why starting a new show right now is significant. Additionally, Zahn introduces himself to the podcast audience with a short overview of his career in media, business, and entertainment while hinting at future stories involving his life as a multi-hyphenate.
More Details:
Zahn aka The Rock Father lays the groundwork for connecting the dots between his work in the toy industry (primarily via The Toy Book, The Toy Insider, and The Pop Insider) and his past in entertainment (film/TV/comics/music), media and publishing, retail, business, and beyond.
Bonus Details:
Remember MySpace? How about MySpace Film or the MyEmmy program? It's related.
Episode 2: Pumpkin Everything & Fighting the "Too Soon" Crowd
This week, James Zahn discusses the not-so-early arrival of seasonal merchandise at retail — including Halloween and Christmas — and how the "too soon" crowd of complainers is back out in force. On the show, Zahn breaks down his experiences with the "too soon" crowd while working at Walmart and the late Musicland Group's Sam Goody more than 25 years ago, and how the timeline dates back to the 1950s (see: Elvis Presley!).
Additionally, the General Mills Monster Cereals are back and Dunkin' and Starbucks have gone pumpkin. Oh yes, it's fall y'all!
Episode 3: (Release Date: TBD)
Episode 4: (Release Date: TBD)
Episode 5: (Release Date: TBD)
Episode 6: (Release Date: TBD)
Episode ?: (Release Date: Sept. 22, 2022)
Subscribe
Be a Guest on the Podcast
Send an email to podcast@therockfather.com with details.
Advertising & Sponsorship Opportunities
Email marketing@therockfather.com