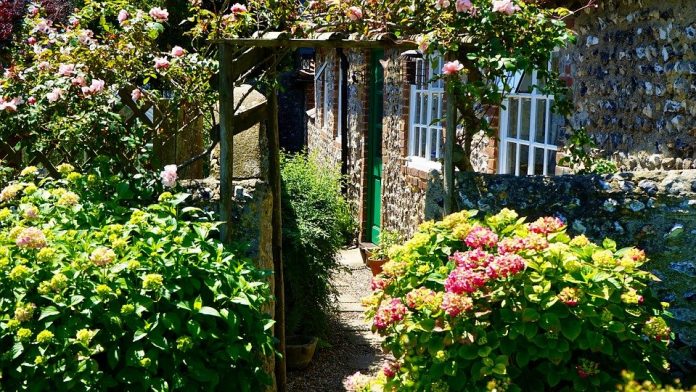 Simply put, being outside makes you happier and healthier. The good news is that you can reap all the benefits of the great outdoors and do it with relatively little fuss. You can enjoy all the advantages of spending time in nature without ever leaving home by creating the perfect backyard oasis.
For an outdoor space that is both idyllic and budget-friendly, consider the following tips.
Pick the Perfect Patio Furniture
Most times, furniture is an investment. In fact, furniture is the third most expensive investment you will make, topped only by purchasing a house and a car. Thankfully, there are ways you can purchase beautiful and utilitarian patio furniture and do it on a budget. Here are some pointers to get you started:
Thrift. For attractive patio furniture on a budget, check out local thrift stores. Carefully look for rare finds and know that it is possible to spruce up the appearance of furniture you find on sale if need be. Furniture may look like new after a fresh coat of paint or after swapping out old drawer knobs or drawer pulls for new hardware.
Build your own pallet furniture. Another option that is particularly trendy right now is building your own pallet furniture. Purchase pallets from your local hardware store or ask stores discarding them if they're up for grabs. Pallet furniture is relatively easy to build. Sand the pallets and repaint them. Then, cut and fasten pallets together to form tables, chairs, or benches, and top with a cozy cushion if applicable.
Take advantage of off-season and temporary sales. Patio furniture is less expensive during the off-season. For the best deals, keep an eye on sales year-round. Some of the best sales may happen during late fall or during the thick of winter — when you are least likely to think about sitting out on your porch.
Blend Hardscape and Softscape
For a picture-perfect backyard oasis, you're going to need more than well-chosen furniture. You can liven up your outdoor space by seamlessly blending hardscape and softscape. What is hardscape? What about softscape? Hardscape includes stone, concrete, pavers, and more. It generally makes up your patio floor, paths leading to and from your patio, and any other stone, concrete, or paved areas surrounding large outdoor features, like fire pits. Softscape includes grass, plants, flowers, shrubs, and any of the living greenery that you'll normally find in your backyard.
The most eye-catching patios or backyard sanctuaries effortlessly combine both. For example, invest in a path leading up to your patio. Line the path with brick or edging and fill it with chic crushed stone. Crushed stone is a highly versatile material, spanning 0.5 to four inches in size. Contrast stone paths and concrete patios with large planters filled with green plants and colorful flowers.
Add Privacy
Of course, a true backyard oasis will afford you reasonable amounts of privacy. Without it, it may be difficult to truly relax.
Ensure privacy in your backyard by installing a tall privacy fence or look into more flexible features that you can adjust at your will, like awnings. Think of awnings like decorative window film or window tints on car windows. Window tints keep out 99% of damaging UV rays. Like window tints, awnings help cast shade and block harmful UV rays while creating a sense of separation.
Have Fun With It
Think about the feature that will add that little extra something to your home and go for it. That may include a temporary above-ground pool — Real Homes recommends using a stock tank pool — a hammock, an outdoor kitchen, or a bar. Every backyard oasis needs a statement piece, so don't be afraid to pick something simply because it brings you joy. While you'll have to consider your budget here, you don't have to limit yourself in terms of creativity.
Nationwide, people long to spend more time outdoors and a growing number of us long to do it without venturing too far from home. Create the perfect outdoor oasis right in your backyard and do it on a budget, too. Get started with the list above.