With three decades of storied history, acclaimed singer/songwriter Kevin Lee continues to inspire generations as one of the best big-hook, power pop songwriters in the business. Flanked by his incredible band, The Kings, Lee recently released Sticks & Stones on Sigus Records. With an infectious sound of modern pop/rock packed with big guitars, indelible hooks, and soaring vocal harmonies, the songs deliver the kind of car-radio magic that turns winter nights into summer bright. Tracks like "On Top of the World," "Tell the Truth," the Tom Petty-esque, "All We Have Is Now," and the ultra-catchy "Hold On to Yourself Tonight," remind you of why you loved rock and roll in the first place. Ahead of some summer live dates and an upcoming performance at Joe's Live in Rosemont, IL to benefit Lurie Children's Hospital, our writers caught up with Kevin to talk a little bit about the new album, the music business, and the Chicago sound.
The Rock Father™ Magazine is a proud supporter of all that is great about Chicago. Have you lived in Chicago your whole life? What are your favorites things about the city? And what's your favorite place to see a concert and play a show?
I've also lived in Los Angeles, Sarasota & St. Petersburg Florida but I always come back to Chicago. A few of my favorite things about the city are the amazing skyline, driving down Lake Shore Drive on a sunny day & all the great restaurants. Northerly Island and the United Center are great to see a big rock show. I've played most of the clubs here, I'd say Metro's my favorite.
You just released a fantastic new album entitled Sticks & Stones. Tell us a little bit about it and if it was released on vinyl, would side A be "Sticks" and side B be "Stones?"
Thanks, The album was recorded at my friend Scott Jacobson's house in Evanston, Illinois. He has a full-blown studio on the top floor of his house. Scott's a great engineer and a cool guy so we had a great time recording. It took 2 years to finish which is the longest I've spent recording an album. Sticks & Stones is the first of my albums that I produced myself, I'm really happy with it. Great idea, we could put all the rockers on the "Stones" side and all the other songs on the "Sticks" side.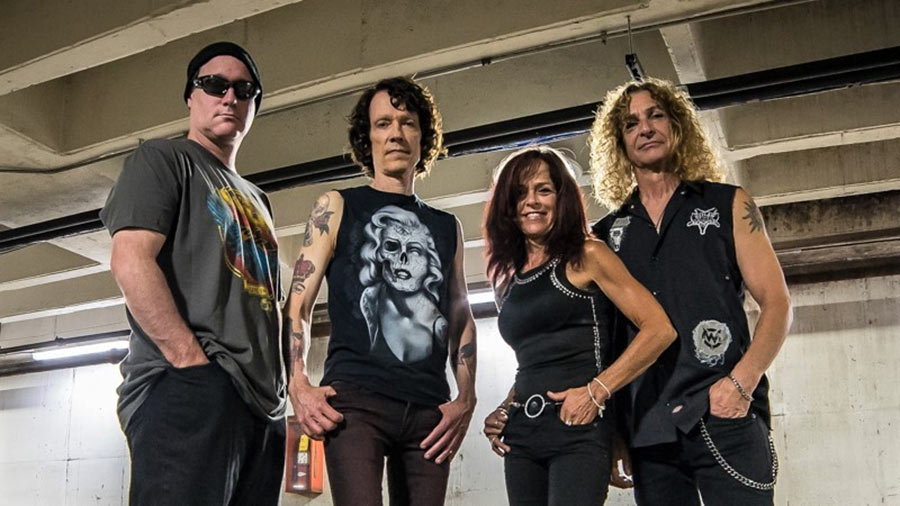 How do the songs come together? Is it a collaborative process with your band, The Kings? And which comes first, lyrics or music or does it vary? And who comes up with ALL those hooks? They're massive!
I write the songs and bring them in for the band to learn. I'm lucky to play with great musicians that bring it 100% every time be it a rehearsal or a live show. Michael Kurtz is a great guitar player that has the perfect style for the songs. Patti Prendergast rocks the bass and is really good at coming up with harmony vocal parts. Erik Strommer and I have played together now for 11 years, he has incredible timing, great drummer. I'd say the music comes first. I hear melodies easier once I have a groove and a chord progression established.
I really like the bite of "Slip of the Tongue? It's got some serious muscle! Who came up with the riff and what's the song about?
Great to hear you like the song, I came up with the riff/song. The songs about gossip and how hurtful it can be with one "Slip Of the Tongue."
Nine out of the ten songs on Sticks & Stones are between 3 and 3 1/2 minutes with the ultra-catchy "Hold On to Yourself Tonight" coming in just under five minutes (it includes a sublime outro on piano). 3 – 3.5 minutes seems to be the magic sweet spot. Most great pop/rock songs are right at that length. Is that a conscious decision? Do you aim to have the hook start at a certain point, like within the first 30 seconds? Can there be a formula without it being too formulaic?
I've always loved radio-friendly, catchy, hook-filled rock songs. There's no intention behind the 3-3 1/2 minute length, it just feels right. I grew up listening to mainstream radio when rock n' roll ruled, it's in my DNA. I don't purposely try to hit a chorus in any certain amount of time, it happens in that amount of time because it sounds right. Any formula is formulaic past a point and not something I've ever considered while writing a song.
What's your favorite song from the new record and why? And then what's your favorite song you've ever written and why? Of course, they can be one and the same.
I like them all in different ways but I'll say the first track On Top Of the World. It's a three-minute rush of big hooks, chunky guitars, Kings guitarist Michael Kurtz nails the guitar solo at the end and the lyrics sing that better days are upon us. I'm On Top Of the World. I think one of the best songs I've written is "End of the Line" from my "Flip the Switch" album. The melody is catchy, the lyrics ask the eternal question "will you stay with me till the End of the Line? And the song connects with most people that hear it.
I don't know if Chicago/Illinois has a "sound," per se, but listening to your album, I hear bits and pieces of Cheap Trick, REO Speedwagon, Urge Overkill, Material Issue, and even Veruca Salt, and one thing they all have in common is an uncanny ability to write great songs with undeniable hooks. Do you think there's a "Chicago" sound? And who are some of the Chicago/Illinois luminaries that you dig?
These days there's a little bit of everything here but at one point Chicago definitely had a sound and one of the best music scenes in the country. In that time I loved Off Broadway, super catchy radio pop-rock, great live band, they ruled the scene. Cheap Trick has been a huge influence on me over the years. I used to play shows with Material Issue. I also shared the same management and toured with REO.
You were signed to MCA in the 90s so you've seen the business from the major label side and the DIY indie side, from the peak of the CD boom to the digital transformation and re-configuration though it seems like people are consuming more music than ever before. What's your perspective on the music business, then and now?
The music business has changed drastically since I was a kid. Back then being a successful songwriter was a real possibility so I jumped in headfirst. The old-school approach of getting your songs to a label and getting signed was within reach. I'm grateful to have been signed to MCA. After file sharing devalued music most big labels and mainstream rock radio are gone, Congress changed what songwriters are paid to not much, streaming is the tread of the moment and it's pretty much DIY for everyone. I think you just have to roll with the changes and dig in and find your place in the big picture.
You've done some major tours including opening shows for Cheap Trick, REO Speedwagon, Lou Gramm, Matthew Sweet, and Pearl Jam. That's a lot of rock royalty! What did you learn from your time on the road with these legends? Any particular show or tour stand out?
I always watched the bands after we finished our set to learn as much as I could. Coming from playing clubs the biggest thing I picked up was as a frontman how to get across, talk to and connect with 20,000 people. I played to a sold-out Auburn Hills sports arena outside Detroit opening for REO and got a standing ovation from half the crowd which felt great.
You have a number of Chicagoland shows coming up to support the album. Will you also be touring regionally or elsewhere?
We'll be playing shows in and around Chicago, Wisconsin, and Indiana. Hopefully, we can get a National tour that we can afford to take.
Knowing what you know now, what would your current day self tell your younger self? Either music business-specific or about life, in general?
Have a plan B. I played in bands in junior high, high school and that's all I've done ever since so it's been an interesting ride to say the least. Especially with all the changes in the music industry, keep writing and playing live but have a legitimate way to make money and survive at the same time.
Outside of music, what are your passions, your hobbies, charities or non-profits you support?
I'm pretty much consumed with writing songs and working to further my band on a daily basis so I don't have much free time. We play benefits to give back and have one we're playing May 20 at Joe's in Rosemont, Illinois. Other than that I love animals (I have 3 cats) and go to the gym most days.
Finally, what are your Top 5 Desert Island picks?
Tom Petty – Damn the Torpedoes
Cheap Trick – Cheap Trick (first album)
Marvelous 3 – Ready Sex Go
AC/DC – Back in Black
Rick Springfield- Songs For the End of the World
Want more? Check out http://www.kevinleeonline.com