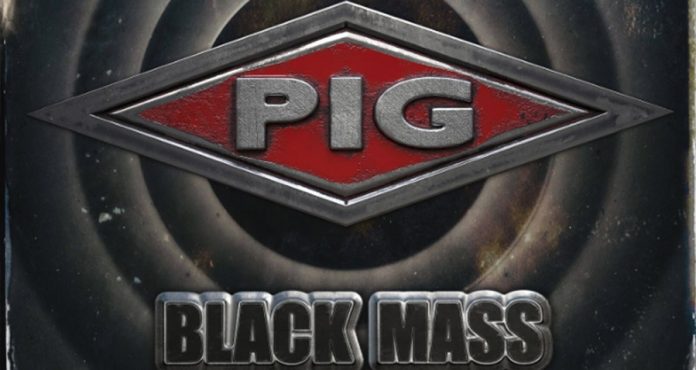 2018 has been a pretty good year for holiday music thus far, but one thing we haven't heard much of is stuff on the heavier, more bizarre side of the spectrum. That should change on December 7th when PIG mastermind RAYMOND WATTS and regular collaborator EDEN release BLACK MASS – what they're calling "an unholy trinity of festive filth" – covers of holiday classics by John Lennon, Elvis Presley and WHAM!
Watts said the following: "I wanted to pay homage to the great Christmas songs, have fun with them but also take a stand against the ever rising tide of toxic bigotry in this increasingly brutal world while remembering there is a better part of ourselves. 'Happy Christmas (War Is Over)' in particular represents this whatever your beliefs may or may not be. 'Last Christmas' while being a great song from the irreplaceable George Michael (who left us two years ago this Christmas) also represents the fleeting nature of 'the season of goodwill'. 'Blue Christmas' resonates with anyone who is separated from a loved one at this time of year, whatever the reason, war zone or weather (and who doesn't want a go at being the King?) To that end these songs stand as an honour guard from the Lord of Lard."
BLACK MASS will be available for free download via Bandcamp, though a minimum donation is appreciated, with all proceeds going to INTERNATIONAL RESCUE COMMITTEE.
PIG most recently lit up the internet this past summer with a cover of KC & The Sunshine Band's 1975 hit, "That's the Way (I Like It)" featuring Sasha Grey.