Born in 2007 in Southeastern Wisconsin, and hailed as "One of 12 Bands to Watch" by Metal Hammer, PRODUCT OF HATE holds the unique distinction of maintaining its original lineup for the first 14 years of its existence. From 2007-2021, vocalist Adam Gilley, drummer Mike McGuire, bassist Mark Campbell, and the lefty/righty guitar duo of brothers Geno (Lead) and Cody (Rhythm) Rathbone toured North America several times and released two full-length albums, one EP, and several non-album singles while drawing the attention of major press, including Blabbermouth, Revolver, MetalSucks, Bravewords, FANGORIA Magazine, Bloody-Disgusting, AOL Noisecreep, ArtistDirect, and more.
The First EP…
In 2010, PRODUCT OF HATE independently released THE UNHOLY MANIPULATOR EP, a release hailed by underground audiences as a taste of bigger things to come.  Recorded by Chris Wisco at Belle City Sound in Racine, Wisconsin, the band called upon James Murphy, the legendary guitarist of Death, Testament, and Obituary to handle the mixing and mastering duties.
2012-2013: Independent Videos and Singles…
The following years found the band gaining traction, self-producing a pair of music videos with Special FX legend Robert Kurtzman (Director of Wishmaster, Creator of From Dusk Till Dawn), filmed in Ohio at Precinct 13 Entertainment with production services provided by Robert Kurtzman's Creature Corps. Directed by James Zahn (The Rock Father), the crew would include several future cast members of SyFy's Face Off (David H. Greathouse, Beki Ingram, Eric Zapata), and the short film version of "Unholy Manipulator" would star Hellraiser's Ashley Laurence in the title role – a video that premiered online via leading horror site Bloody-Disgusting after a big-screen theatrical debut at the Terror in the Aisles film festival in Chicago. "Unholy" would become a Halloween-season favorite, featured at film festivals and special events.
A pair of self-released singles, "A Well-Deserved Death" and a very early arrangement of "Revolution of Destruction," would see the band getting placement on sites like AOL Noisecreep, MetalSucks, and Blabbermouth (among others), all while PRODUCT OF HATE remained an independent, unsigned, band.
2014: In order to take the band to the next level, a decision was made to self-produce a fantastic album… and then find a suitable label partner…
In January of 2014, PRODUCT OF HATE entered Mercenary Digital Studios in Zion, Illinois with Engineer Scott Creekmore for the first of two sessions that would eventually become the band's full-length debut album. Initially, a 13-track version of the record (Mixed by Creekmore) was shopped to labels, and in October of 2014, PRODUCT OF HATE would sign with Austrian Metal Titan, NAPALM RECORDS. Officially announced to the public in December of 2014, PRODUCT OF HATE was welcomed into the Napalm family as preparations began for the release of their debut album, BURIED IN VIOLENCE.
2015: Mixing, Touring, Plotting…
With a wealth of material available, including older PRODUCT OF HATE music that would be "new" to the world at large, a decision was made to create a tracklisting for BURIED IN VIOLENCE that would pair nine songs recorded specifically for the album with two remixed tracks from the UNHOLY MANIPULATOR EP (Japanese editions would receive a third, added as a Bonus Track). The additional songs from the Creekmore sessions were not discarded but set aside for the band's sophomore album. After a North American Tour with Allegaeon (Metal Blade) and The Agonist (Century Media), PRODUCT OF HATE once again called upon James Murphy to handle final mixing and mastering at his SafeHouse Production in Florida. Artwork was commissioned to be completed by Colin Marks of Rain Song Design in the UK, and a new single, "…As Your Kingdom Falls," would see release alongside a lyric video. By year's end, "Unholy Manipulator" and "Blood Coated Concrete" had been issued as singles, complete with official Napalm editions of the previous music videos.
BURIED IN VIOLENCE was officially announced for a February 5, 2016 release date.
2016: Album Release, Videos, and Touring…
PRODUCT OF HATE entered 2016 with their furious work ethic fired up and the Napalm Records "machine" behind them. Renting a 40,000 sq ft. facility in Illinois, the band would spend an icy weekend filming three new music videos, once again helmed by The Rock Father, with Chuck Przybyl of MOST Visual serving as Director of Photography. New band photos and portraits were shot by David T. Kindler, and the first official radio single was released – with "Monster" arriving on SiriusXM Liquid Metal, followed by a video release on January 22nd.
Released by Napalm Records on CD/LP/Digital on February 5, 2016, PRODUCT OF HATE's BURIED IN VIOLENCE hit #9 on the Billboard Heatseekers – East North Central Chart, was CMJ's #3 most added at radio the week prior to release and hit the #8 Bullet spot on the CMJ chart for release week. The album brought with it PRODUCT OF HATE's first in-store appearance at F.Y.E. and was celebrated with a pair of release weekend performances in Chicago, and a hometown throwdown in Kenosha, Wisconsin.
PRODUCT OF HATE hit the road for a Spring Tour with MUSHROOMHEAD, Sumo Cyco, and Madame Mayhem from April 30-May 29, 2016. The U.S. trek hit mostly markets in the Eastern half of the country, putting the band in front of new audiences every night. On May 20, 2016, "Kill. You. Now" became the latest single and video from the band.
Although not released as an official single, PRODUCT OF HATE's album-closing cover of Ozzy Osbourne's "Perry Mason" started picking up steam on SiriusXM Liquid Metal thanks to an appearance of "Corridor of Covers."
On September 21, using footage accumulated during the Mushroomhead Tour, the band revisited "…As Your Kingdom Falls" for a "Tour Edition" live music video helmed by Mushroomhead crew member Josh Apple.
A co-headling tour of small clubs would follow, as PRODUCT OF HATE and Napalm Records labelmates HAMMER FIGHT hit the road for the "Hammer Our the Hate Tour," spanning the U.S. during the fall months, closing out with a pair of shows headlined by Victory Records' Jungle Rot.
2016 was closed out with "Perry Mason" being hailed as one of the "Best of 2016" in a year-end Corridor of Covers show on Sirius XM.
2017 – 2018: The Hate Train Keeps Rolling…
To celebrate the one-year anniversary of BURIED IN VIOLENCE, the band released an official music video for "Revolution of Destruction" on February 3, 2017.
After doing select dates throughout the spring, PRODUCT OF HATE hit the road with SKINLAB and IKILLYA for an East Coast run from May-June, after which PoH and IKILLYA continued across the U.S. for their longest tour yet as the first-ever "Summer Annihilation Tour" hit clubs from coast-to-coast.
Late 2017 started to signal the end of the album cycle for BURIED IN VIOLENCE as the band began demoing material for a new record. On Oct. 3, 2017, PRODUCT OF HATE parted ways with Napalm Records and shifted focus to its new album while announcing one-off dates with the likes of MOTOGRATER for fall as they began looking toward a fresh start in 2018.
2018-2020: A NEW ERA BEGINS
In 2018, PRODUCT OF HATE once again entered Mercenary Digital Studios with engineer Scott Creekmore on the boards. Fourteen songs were recorded for the new album, with a preview single, "Rapture," released on Friday the 13th of July — the same night that the band performed a special one-off show in direct support of DevilDriver. The single was the first to be released on the band's own POH Metalworks imprint and featured mixing and mastering by Chris Collier (Korn, Prong, Whitesnake) of CMC21 Productions.
In 2019, a non-album, fan-requested cover of MÖTLEY CRÜE's 1983 classic, "Shout at the Devil" was released to coincide with the release of "The Dirt" on Netflix.
PRODUCT OF HATE was not immune to the spread of the COVID-19 pandemic. The band released "Euphoria," the lead track from its second album YOU BROUGHT THIS WAR in January 2020 with plans to release the album in the spring with a tour to follow. Those plans were put on hold as tours were canceled and the world went into a state of unrest. 
In September, the band regrouped to film a pair of new music videos at the historic Kenosha Theatre in Kenosha, Wisconsin.
On Oct. 30, 2020, a non-album cover of LIVING COLOUR's 1988 hit "Cult of Personality" was released ahead of the U.S. Presidential election. Four days later, the song was added to rotation on SiriusXM's Liquid Metal by Metal Ambassador Jose Mangin.
2021: YOU BROUGHT THIS WAR
PRODUCT OF HATE's second full-length album, YOU BROUGHT THIS WAR, was released on Feb. 5, 2021, via POH Metalworks. The 12-song affair was recorded and engineered by Scott Creekmore with mixing and mastering completed by Chris Collier. 
Artist Colin Marks of Rain Song Design, with whom the band collaborated on its debut album, returned to provide cover art for YOU BROUGHT THIS WAR and its accompanying singles.
Two music videos — "Redemption" and "You Brought This War" — were crafted by longtime collaborators James Zahn (The Rock Father) as director and Chuck Przybyl of MOST Visual as director of photography and editor.
The album was backed by Munsey Ricci and Skateboard Marketing for a U.S. radio campaign that propelled "YOU BROUGHT THIS WAR" to a No. 2 most added on the NACC Loud Rock/Metal Chart; No. 3 Top 10 Metal Contraband Most Added; and No. 43 debut on the Metal Contraband Top 50 Metal Chart.
To date, the album peaked at No. 10 on the NACC Top 30 Metal Chart and No. 16 on the U.S. Top 50 Metal Contraband Chart.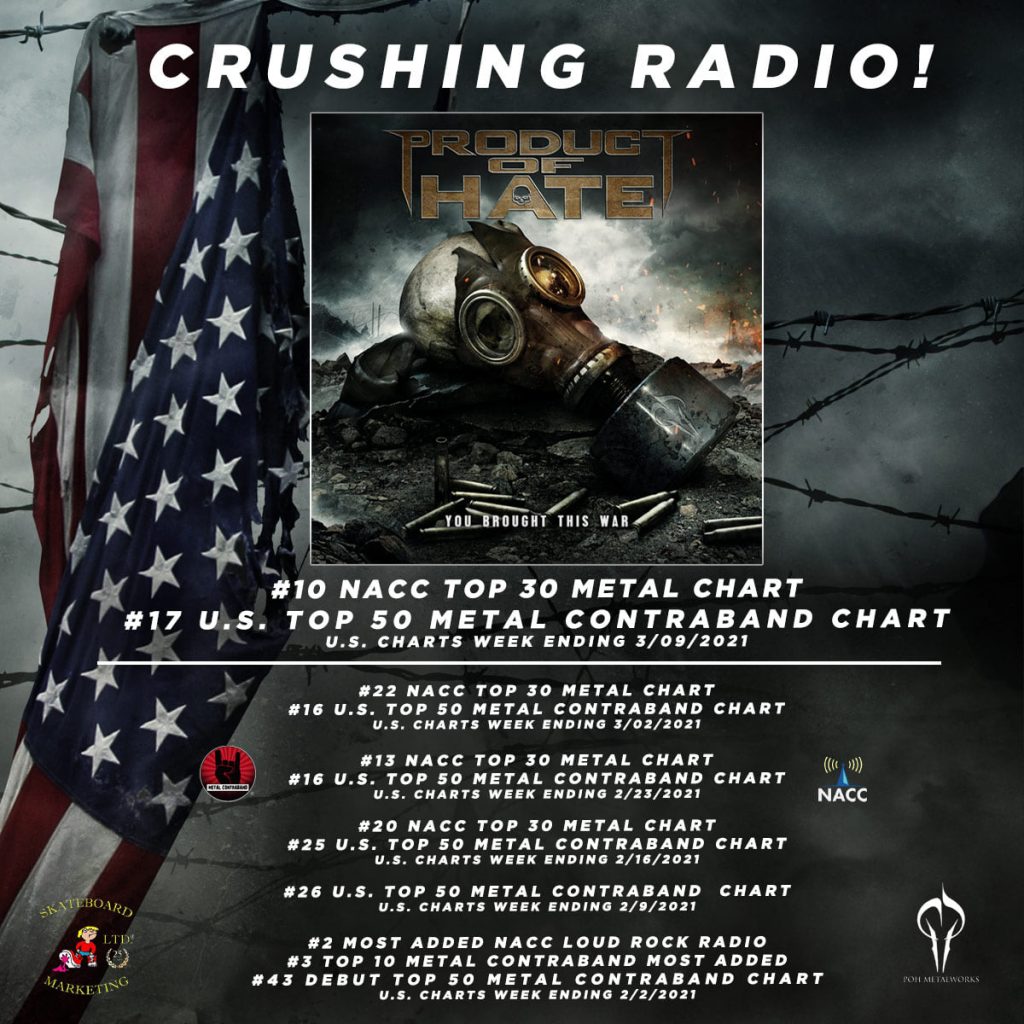 What does the future hold for PRODUCT OF HATE? Stay tuned…
Advertisement