When we bought our home seven years ago, the property came with a shed. It was cumbersome, improperly installed, and just plain yucky. Eventually, it became clear that it was in such bad shape, I feared that it might fall on the kids, and because of that I went all INCREDIBLE HULK and knocked the thing down myself. In place of the shed, we put some of our kids' outdoor toys in that spot, but approaching this year we knew it was time for a new shed. Backyard Discovery has long been known for its excellent sheds, swingset, and playhouses, and thanks to their recent merger with The Step2 Company (long-time friends of mine), I had a chance to go hands-on with one of their new Ready Sheds – sent to Rock Father HQ™ for review. While I think I'm pretty solid when it comes to gardening and landscaping, construction and carpentry are pretty foreign to me. With the Ready Shed, Backyard Discovery has created a do-it-yourself shed kit that they say can be completed with one hammer, one drill, one person, and in one day. Check out the video below to see ours…
Available in either peak or barn-style 8'x8′ sizes (a just-launched John Deere collection adds wider doors and other adornments), I chose the barn since I have some farming in my blood and spent a great deal of time on my grandparent's farm as a child.
These get delivered to your home via freight carrier, and taken off the truck with a pallet jack. The crate it comes in isn't really a crate at all – but a clever use of the shed itself, neatly packed and with easy-to-follow instructions for careful disassembly. There's very little waste here, but you do want to use caution since almost everything will be re-used. Everything you need for the build is included – nails, screws, flooring, and pre-cut shingles. Since we do run into some harsh weather here in Northern Illinois, I added a few things to the mix including roofing fabric (around $10 for a roll at The Home Depot) placed between the wood and shingles, some foam spray insulation, and some flashing/caulk. Perhaps not necessary for a basic build, but I wanted our Ready Shed to be as tight as possible – if only to satisfy my own paranoia about weathering. Fortunately, Backyard Discovery includes a 15-year limited warranty, so these sheds are built to last awhile.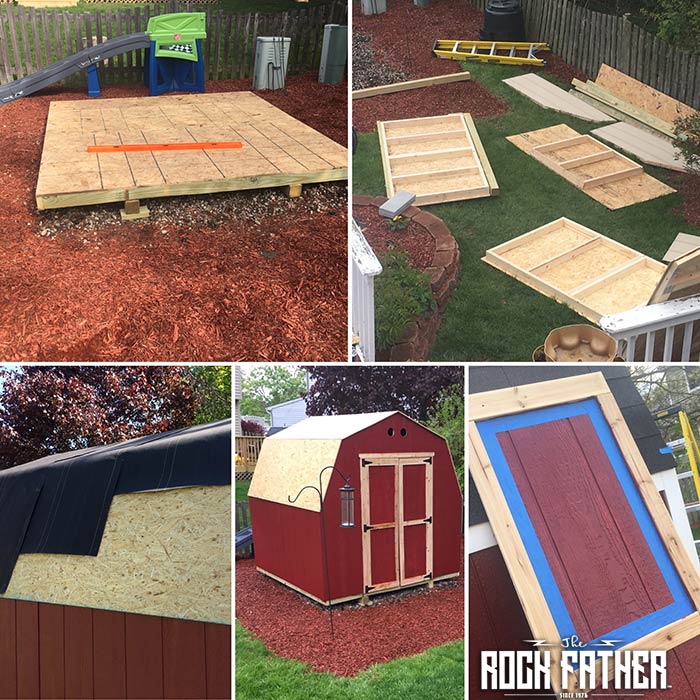 The actual build itself can, indeed be completed in a day – provided you're not constantly interrupted as I tend to be. Also, I highly recommend having a partner to help, just to speed up the process and make things easier. I had to go it alone on ours.
The biggest thing not included here is paint, and again I went with some BEHR paint from The Home Depot. We got a really nice barn red along with some ultra-pure white for the trim. It's highly recommended that you paint the trim separately before attaching it to the shed. The only thing I had to tape off was the door, as the trim was already attached. Our youngest daughter was more than happy to assist in the painting!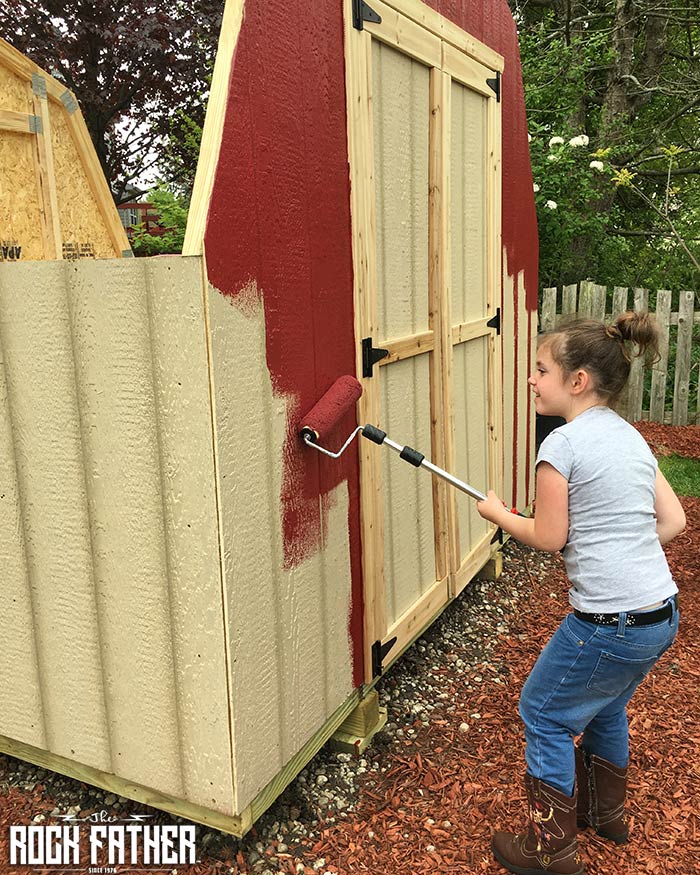 Once the shed is built, there are a couple of options for shelving inside. The Ready Shed comes with a pair of shelves that are designed to run across the back wall of the shed or to be doubled up as a loft. This is where I decided to customize the shed for my own gear, opting to leave the back wall open for some Rubbermaid FastTrack – a system I love for organizing long-handled tools and power equipment.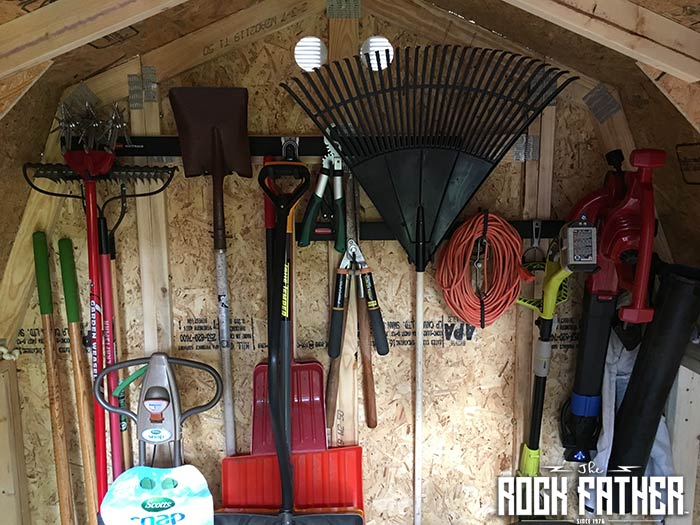 From there, I used the included shelves but modded them with steel brackets underneath. Now we walk into the shed with nice shelving running along the sides, and I did it at just the right height to store some other gear standing underneath.
Priced at under $2K (sometimes as low as $1,699), the Ready Shed is a fantastic value that packs a nice amount of storage space into a durable and attractive package – one that we love and recieve a lot of compliments on. As of this writing, we've had ours for just shy of three months, and it's been through high heat and some really nasty storms that have packed high winds, hail, and a ton of rain. Throughout all of this, the Ready Shed has stayed nice and dry.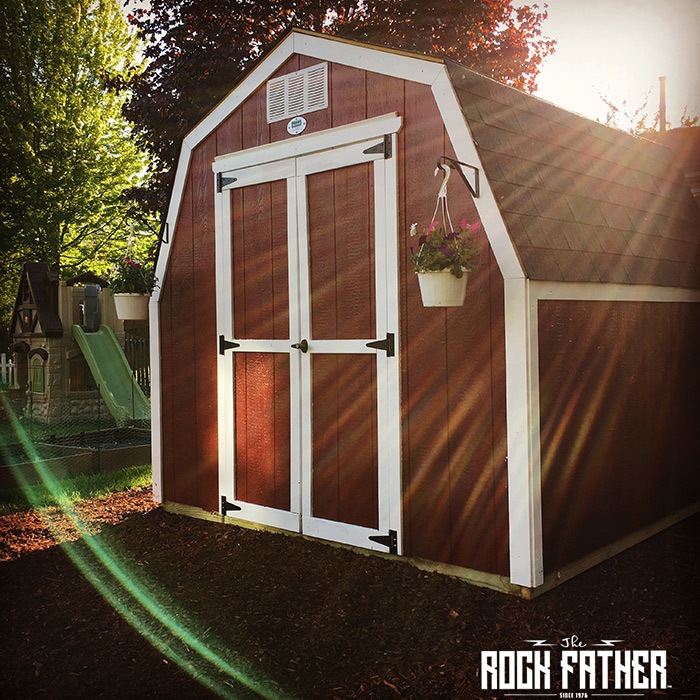 Now I'm thinking ahead, with the possibility of running power out to our Ready Shed to add some exterior lighting and interior outlets. Plus, you can bet we'll be dressing this up for the various seasons, with some fall and holiday decor that you'll be able to see on my Instagram in the months ahead. I already added some brackets to the front, allowing for our seasonal hanging baskets. As our shed is now a fixture in our backyard, I'd imagine that our girls will have memories of it forever.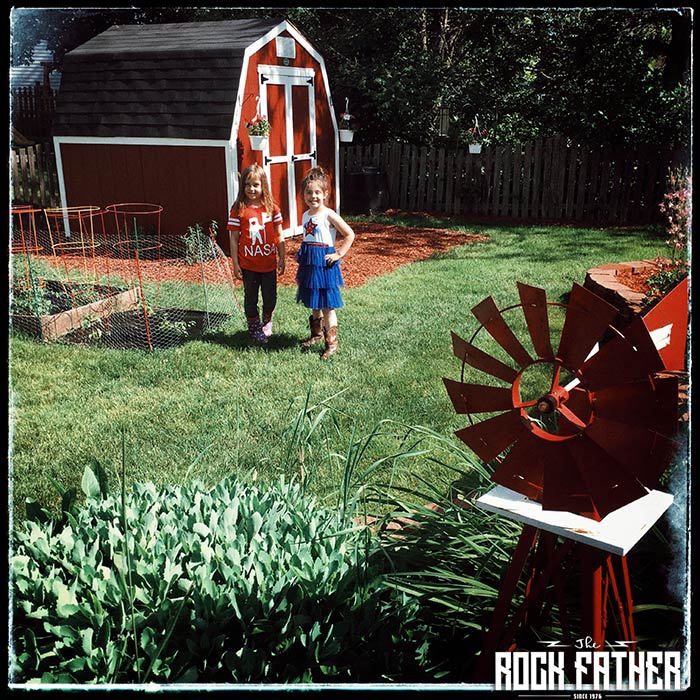 To see the full assortment of Ready Shed products, check out Backyard Discovery.