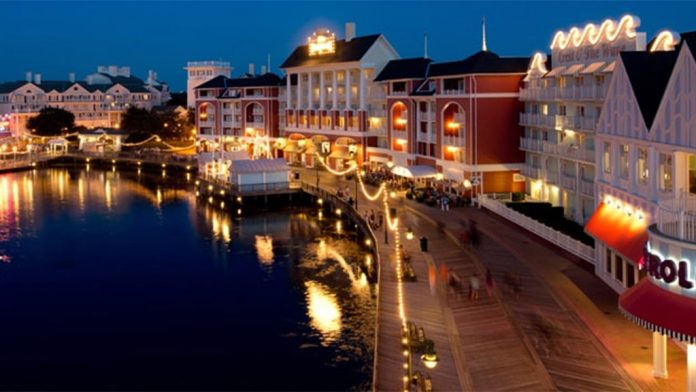 Being a Seasoned Veteran of Walt Disney World, I have the place all figured out so that I will maximize my family's fun time, and minimize my irritation and sticker shock during every trip. Having stayed at several "On Property" Resorts over the years, I could (and might) write numerous reviews, but this particular trip was to Disney's BoardWalk Villas Resort this past June.
With so much to cover, I begin at check-in through security at the gated entrance. Photo ID confirmation and we're IN! The Bellhops and Front Desk Staff all get good scores, friendly and efficient. Now, I should note that I stayed here because I have a Time Share with Disney, so housekeeping is a bit different but they get good scores as well. The entire staff was on the ball.
Our one-bedroom suite was killer. Spacious, 2 TVs, Full Kitchen, everything was clean and the bathroom had either a tub or shower… in other words, it was damn big. The bed & pillows are outrageously comfortable and we scored a balcony offering a perfect view of Epcot's nightly fireworks display. The rooms next to us had… a tree. Regardless of anything else, the grounds are immaculate, serene, and surrounded by water. As the name would indicate, BoardWalk Villas does indeed feature a Boardwalk around the lake with a few shops and places to eat. The choices were a bit slim but tolerable. It's overpriced too, but everything at Disney is. You just deal with it.
Photo: Watching the Epcot Fireworks from our balcony at Disney's BoardWalk Villas.
This Resort offers a Ferry Boat to Epcot and Hollywood Studios which are much more tolerable than taking the Bus. Staying at any Disney Resort gives you some advantages like eternal free transportation to all six of their Parks, but the BoardWalk can be one of the BEST due to the Ferries. Hollywood studios and Epcot are both actually within walking distance. It is luck of the draw where you end up at these places. Your room may be a long walk to transportation, or it may be 100 feet away. All in all the BoardWalk can be an amazing place. The Pools at some of these "Upper Class" Resorts should be bigger… Some feature a Water Slide which kids freak on but the Economy Resorts have a better Pool setup. Go figure?
Know this, parents who Rock. I was the ONLY man at the Boardwalk with long hair and a goatee and I stood out like a sore thumb. Many of the other guests were shallow and cold stuck-up snobs. They do their "I think I am special – what are you doing here?" routine a lot but don't let it get to you. I don't. I notice that it's usually them slamming drinks at the pool at noon, yet I'm "the crystal meth guy" from their stereotypical mug shots haha!? Party at night when your kids are asleep, you jerks! Get it right! Having a suite with full kitchen means you can bring your own beer and necessities. If you are cutting corners saving cash on meals do whatever works in your room. It's not likely your party will eat much anywhere for 10 bucks or less for any meal and snacks are often in the 5 dollar range so it can get very expensive. We opt for the "treat yourself, you are on vacation" feel and choose to eat at a lot of pricey places and always leave satisfied. BUT!– We also know where to score faster, cheaper meals at all the Parks. Know what's up and it is easy to stay on a budget. If you aren't paying attention you'll see your money disappear.
Photo: Note the lack of people behind us here at the Magic Kingdom? This was taken in June during one of their busiest times of the year. Get there early! This is minutes after the park opened. 
If you want some advice, the best I can offer is this. Do not sleep in every morning. Storm your park of choice as soon as they open. Leave and return to someplace killer like the BoardWalk in the early afternoon and enjoy it. With the scenery, game room, gym, recreation center, pools, and everything out on the Lake you can really live it up. You are paying top dollar for these Resorts. Spend time at them, don't just sleep there. My family prepares for these missions to Disney with exercise and getting out into the sun during the final weeks before we leave. We know we are going to be running around in the heat and waking up at 6 AM, but that is our plan which works for us so we prepare for it. We are workaholics. Believe me, we need our rest, and no matter how much we race around, when all is said is done we get the rest part of vacation too. The kids crash early after the fireworks and we have cold drinks on the balcony.
In closing the Parks can be conquered easily with many Apps helping with the wait times on rides and even GPS telling you how to get to them without a park map. Many of the best rides will be over an hour wait late in the day. Get there early and hustle. I have done them all in a day and some numerous times. Hollywood Studios offers the new Star Tours in 3D. It is any Star Wars Geek's dream come true. AMAZING! Toy Story Mania is some of the most fun you can have on a ride with your kid. You are playing a game as you ride with a gun shooting targets and it is freakin awesome. At the Magic Kingdom, we hit Splash, Big Thunder & Space Mountain all in one morning which is no easy task. Inexperience and unpreparedness will send you home from Disney pissed off and penniless. The rides are tame, and very few are over the top. Many are laid back for families who cannot hang with being hurled into loop after loop 666 feet off the ground. We go on 95% of their rides and have a game plan laid out for every morning with our park of choice. Get in, attack! Hit the rides with the vacation fist in the air fever. Most days tons of people are arriving as I am leaving. Many people want to rest on vacation. Do it in the afternoon or at night. Get your money's worth to show your kid who owns Disney! My life revolves around Death Metal, Spikes & Leather, and Snakes. When we go on vacation we leave all that behind. You want to show everyone how metal you are at a place like the BoardWalk or in the parks? Believe me, they'll know. They see right through my elaborate Disney wardrobe and smiles every time haha!
So go! Live it up! Do it all and roll with the big dogs. Do it right and you will want to go back over and over again and remember our check-in began with gated security. I was never so at ease letting my 10-year-old having her first dose of freedom on property. You will not feel that way in "low budget" Orlando. Think about that.
Curious to learn more, or to book a trip? Check out the official site for Disney's BoardWalk Villas.