I've had some adventures over the years, and from those "past lives" comes a little backstory as to what I'm sharing here today. Back in the early-mid 1990s, while I was playing in bands and doing a little television on occasion, I was also working in print, writing reviews and features that were often tied directly into regional happenings. One publication that I'd done a bit of writing for still exists today – The River Cities' Reader, based out of Davenport, Iowa. I'd penned some stories for them during my time living in The Quad Cities, but there was one that came about after I'd already moved back to the Chicago area — a 1996 interview with PANTERA drummer Vinnie Paul. It was a short piece — a simple promotional article to preview the band's forthcoming show at The Mark of The Quad Cities (currently dubbed the "iWireless Center") in support of their then-new release, THE GREAT SOUTHERN TRENDKILL. With Rhino Records releasing a 20th Anniversary Edition of that album later this month, I snagged this one from storage and am republishing it here in THE ROCK FATHER Magazine. While it's nothing groundbreaking, there are a few cool quotes in there that really sum up a band that I was fortunate to have been able to see a few times while they were touring in their prime. Enjoy…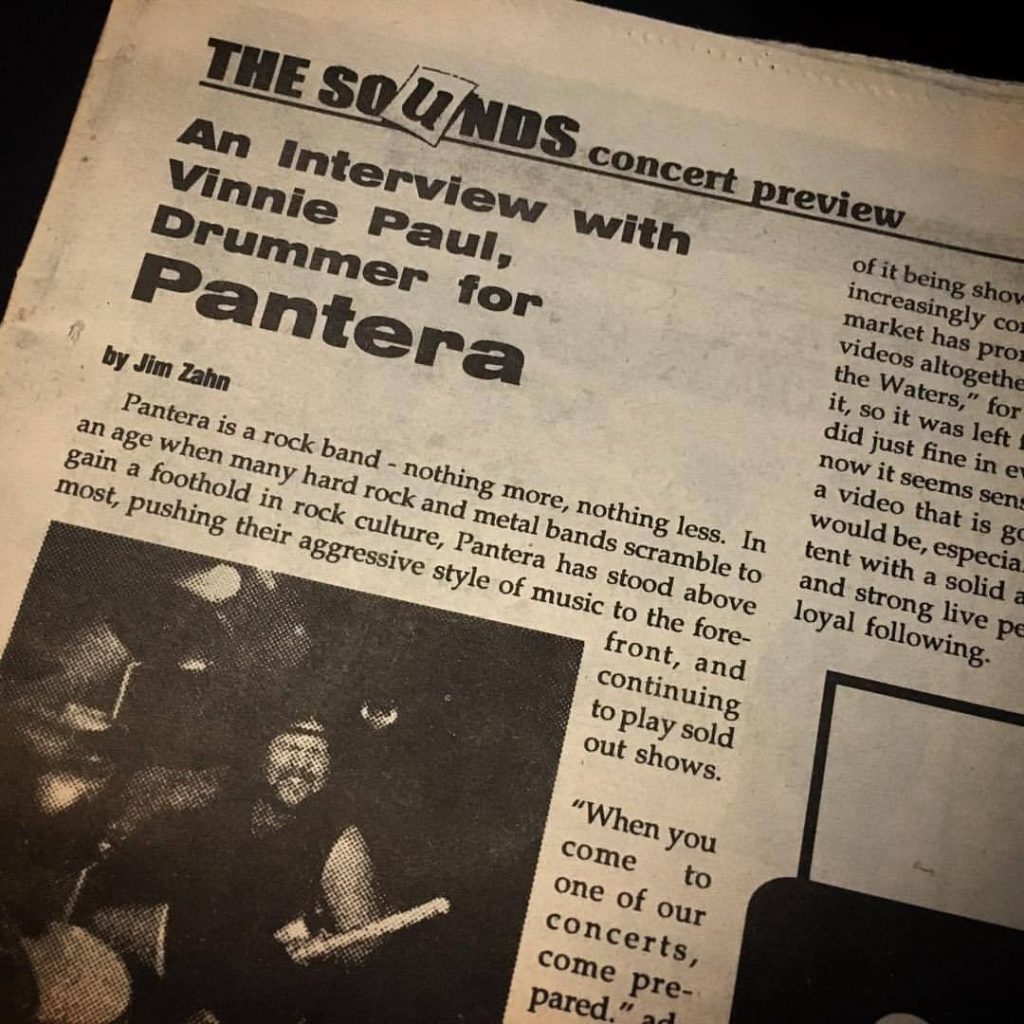 Originally published in the November 6-12, 1996 issue of The River Cities' Reader…
THE SOUNDS: Concert Preview – An Interview with Vinnie Paul, Drummer for PANTERA
PANTERA is a rock band – nothing more, nothing less. In an age when many hard rock and metal bands scramble to gain a foothold in rock culture, PANTERA has stood above most, pushing their aggressive style of music to the forefront, and continuing to play sold-out shows.
"When you come to one of our concerts, come prepared," advised drummer Vinnie Paul in a recent phone interview. "Get ready to rock and roll. It's gonna be a straight-up, full-on rock and roll show. We don't bring lasers. We don't bring video screens. We don't have bombs exploding. It's a rock show, not a 1996 techno-disco. It's PANTERA."
Their latest release, THE GREAT SOUTHERN TRENDKILL, debuted near the top of the Billboard charts just a few months back. This is a surprisingly impressive feat despite the lack of support for the band from major radio stations and MTV. Just three years ago, if PANTERA created a video, the chances of it being shown on MTV might have been good.  But the increasingly competitive and watered-down music video market has prompted PANTERA to avoid commercial music videos altogether. "We did one promotional video, 'Drag the Waters,' for this album. Obviously, MTV didn't play it, so it was left for underground video programs. It also did just fine in every other market, but not in the U.S. So, now it seems senseless to keep spending up to $200,000 on a video that is going to end up on a shelf," explained Paul. Senseless it would be, especially since PANTERA fans seem perfectly content with a solid album every few years. Word-of-mouth and strong live performances continue to build PANTERA's loyal following.
Musically, "…TRENDKILL" is PANTERA's most extreme effort to date, loaded with angry screams and driving rhythms. "Even though it may be our most extreme record, it's also our broadest, added Paul. "I think there are a lot of deep, dark, moody melodic passages on there. And on songs like 'Floods,' there is definitely a sense of uncharacteristic melody."
So what's next for the "Cowboys From Hell?" Paul says that the band will tour through Spring and that PANTERA's third home video will be available by Christmas. "It'll be footage from this tour and the FAR BEYOND DRIVEN tour. Two and a half to three hours of pure entertainment!" And their next album? "We've got ideas cookin' all the time, but nothing's definite yet."
(PANTERA will perform at The Mark of the Quad Cities next Thursday, November 14, 1996, along with NEUROSIS' visually stimulating hardcore show.)
Bonus: Want another "From the Archives" PANTERA interview? Check out this one from 2010 in which Rex Brown talks COWBOYS FROM HELL.