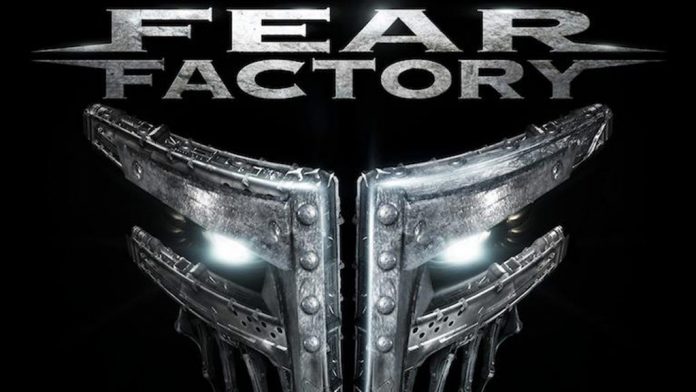 People still ask me pretty frequently what exactly I do for a living. I work all the time, though some of my neighbors still think I don't work at all, and some family members still give me the 'deer-in-the-headlights' look at every gathering, prompted by my responses to their own questions of "What have you been working on?" Then there's the even more annoying ones that hit me with twenty questions about just how exactly I do certain things. It's very frustrating that they'll never understand or respect the many adventures that I get to have as The Rock Father™ and beyond. My latest adventure? I was given the privilege of creating the new FEAR FACTORY video.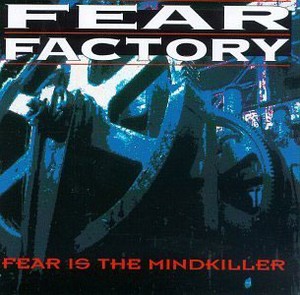 I still remember the first time I heard FEAR FACTORY. It was the summer of 1993, and I was riding in the back of my friend Phil's powder blue Nissan S110. We were cruising through the parking lot of a water park somewhere near Davenport, Iowa and our friend Chad put on this new CD he'd purchased called FEAR IS THE MINDKILLER. Carefully placing the disc into a portable CD player that was piped into the speakers via tape deck adapter, the music came on and was BOOMING. You see, Phil had one of those 2×12 speaker boxes in the back of the car that literally shook the rust from the vehicle as we thumped into the Quad Cities to the remixed sounds of Martyr, Scumgrief, Self Immolation, and Scapegoat. The very next day, I was over at Co-Op Tapes & Records buying both the Mindkiller EP, and it's full-length predecessor, SOUL OF A NEW MACHINE.
FEAR FACTORY was an eye-opening band for me. As a teenager at the time, that era was one of great musical exploration as-is, and to hear a band combine the sonic brutality of grindcore and death metal with anthemic, often beautiful chorus melodies, was something that resonated with me immediately. Then factor in the industrialized beats of the remix EP, and FEAR FACTORY was quickly the subject of much discussion, and a regular part of daily listening.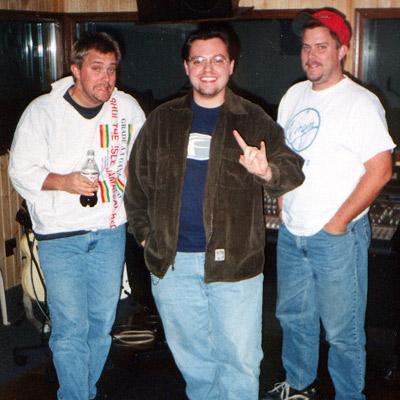 In the nineteen years since that first FF-soundtracked car ride, I've followed the band through good times and bad. With each album a memory, from seeing the band live for the first time at the Palmer Auditorium in Davenport with MEGADETH, FLOTSAM & JETSAM, and KORN (where I also met FF briefly in the lobby) as they supported DEMANUFACTURE; to the REMANUFACTURE t-shirt that I wore constantly until it was practically a rag (pictured right in a '97 studio shot of my old band Odlid!); OBSOLETE taking a few listens to grab me in 1998; to cranking DIGIMORTAL while working alongside my friend Andy in the Garden Shop at Super Kmart in 2001. Fast-forward to 2010 and I interviewed vocalist Burton C. Bell for a FANGORIA article that instead ran on Kik Axe Music, followed by a review I'd written for MECHANIZE, the first FF album in several years to welcome back original guitarist Dino Cazares.
Yeah, I'm basically a FEAR FACTORY fanboy, so when rumblings started this past February that they were interested in working with me, I was pretty excited.
I was introduced to Dino through mutual friend Shaun Glass of DIRGE WITHIN (whom I'd just done a lyric video for),  and at the end of March I began work on an "album trailer" for the latest FEAR FACTORY album, THE INDUSTRIALIST. A return to the full-blown concept albums of FF past, the album trailer is a two-minute introduction to the story, complete with narration, and capped off by a true tease of what is to be expected when THE INDUSTRIALIST arrives on June 5th via Candlelight Records.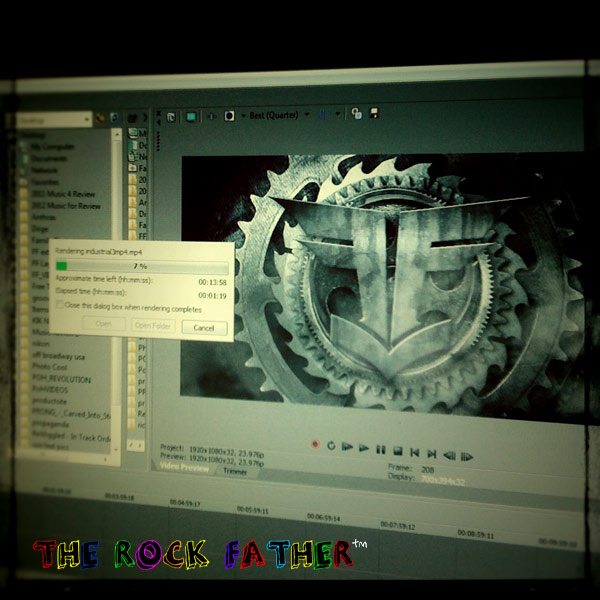 The band had some very specific requirements to fit within the scope of their concept, and I also had some great visuals to work with, including album art from designer Anthony Clarkson, who did a fantastic job with the CD booklet. Assembling these elements into the visual representation of the album intro also included some stock footage and digital elements that I believe work well with tying this together with the FEAR FACTORY lore of the past. Go back to the cover art from the FEAR IS THE MINDKILLER EP… watch the video for Linchpin… you'll understand.
I hope that all of you enjoy the preview.
Big thanks to Dino Cazares and Burton C. Bell for inviting me to work with them on THE INDUSTRIALIST. 
Next up for me are a couple of lyric videos (bands TBA upon release as usual), but I am available for hire! With baby #2 set for release in June, I'm stacking the work fully, and would love to add some new clips to the reel before June. Once the new baby joins the ranks, I'll likely retreat to being "the weird rock guy with corn stalks and a pumpkin patch in his yard" that may or may not do actual work according to my neighbors. Can I do something for you? You can hit me with an email – james [at] therockfather.com.
To check out some more recent work with a preview of something else in the pipeline, check out Product of Hate's video for Blood Coated Concrete. At the 4-minute mark, you'll find a trailer for UNHOLY MANIPULATOR, a short film we have coming out that features HELLRAISER actress Ashley Laurence in the lead role.