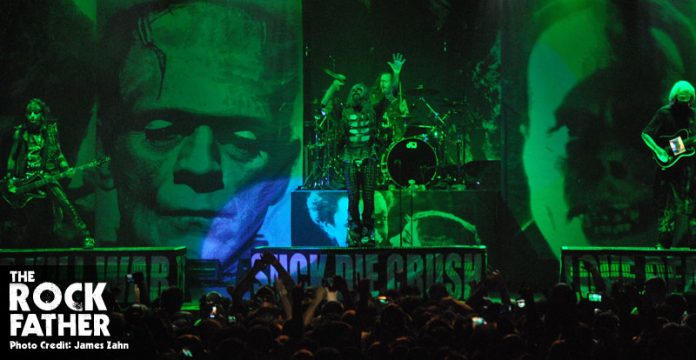 It was probably around 11:30 p.m. on the night of January 27, 1994.
There I was, a seventeen-year-old headbanging television host, standing in the midst of unexpected destruction — the aftermath of a concert which should've never taken place in this particular venue, The Adler Theatre, in Davenport, Iowa.
Whoever decided that it was a good idea to hold a heavy rock show featuring White Zombie, Prong, and The Obsessed in a beautiful, seated, classical theater with no standing room was undoubtedly in deep trouble,  and I was right there in the middle of it — looking up from the ground floor as a faint cloud of dust could still be seen rising into the lights from above.
To one side there were security guards and theater staff, bewildered by what had just happened. On the other, a group of police officers stood equally puzzled. Directly next to me and a friend were members of the evening's headline act, White Zombie. But frontman Rob Zombie wasn't there.
What happened that night is that the crowd went nuts for a show that should've been held in a more suitable venue like the neighboring Col Ballroom or the Palmer Auditorium, where ZOMBIE would play on their return to Davenport in May of 1995 alongside the Melvins and Reverend Horton Heat.
During the chaos at the Adler, pieces of metal and wood rained down from the balcony as many below were ripping the bolted seats from the concrete floor and creating room for a mosh pit where there was none.
It was in that open space, among shards of wood and metal, that White Zombie bassist Sean Yseult offered my friend and I cans of Coke, while we discussed the evening with guitarist J. Yuenger, who prior to the show spent time with us in a lobby bathroom, shooting an interview for my cable access show (pictured from a screenshot I found online).
When I booked the interview through the David Geffen Co., I was told that it was supposed to feature the entire band. But, for whatever reason, it landed solely with J. — who did a fantastic job fielding questions from a couple of novice kids amidst the flushing toilets.
In the aftermath of the destructive concert, enigmatic frontman Rob Zombie had already retreated to the bus. Come to think of it, he'd been equally reclusive in the hours before the show, passing by for just a fleeting moment. This was a band that had been touring in support of its breakthrough album, 1992's LA SEXORCISTO: DEVIL MUSIC, VOL. 1 for nearly two years, and the strain was showing.
A year later, I managed to catch White Zombie one more time when they came back through town, and, by the next time I'd hear "More Human Than Human" performed live, it would be on Rob Zombie's solo tour in support of his HELLBILLY DELUXE album. As I'd started moving in and out of the entertainment world over the years, I wasn't always as "connected" to things, but I'd seen ZOMBIE several times, with a few different lineups.
About a decade later, in 2009, I would see Rob again.
During my stint with FANGORIA as Director of New Media (and as a writer/uncredited managing editor of a few different websites), I'd been covering the production of Zombie's directorial effort, HALLOWEEN II on a near-daily basis as news and photos rolled in for the web. I'd become friendly with Jesse Dayton, who'd previously collaborated with Zombie on music for THE DEVIL'S REJECTS (the country-style Banjo & Sullivan tunes), and was appearing in HALLOWEEN II as "Captain Clegg" of Captain Clegg and the Night Creatures. In support of the film, a full-length album, ROB ZOMBIE PRESENTS: CAPTAIN CLEGG AND THE NIGHT CREATURES was released in August of that year, and that Fall, Zombie took Clegg on the road as his opening act.
When the Zombie tour hit Las Vegas on October 30, 2009, they were playing the Pearl Concert Theater inside the Palms Casino Resort. I was there, as I was working a Fango event with Slipknot called the "Trinity of Terrors" that was taking place in the very same building. Initially, Rob was supposed to be part of the said event with his concert billed as one of the "Three Days of Music, Movies, and the Macabre." I'd heard that the almighty dollar got in the way, so the concert still happened, though not as part of the event.
While I caught up with Dayton prior to his gig as "Clegg" (even ending up in a quick shot on a later DVD release), again, I missed Rob despite having about a 10-second "hello/goodbye" introduction to his manager, Andy Gould while I was on the way to a meeting. About a month later, I'd reconvene with Dayton and the Clegg gang again when the tour hit the Aragon ballroom in Chicago on November 22. Once again, I didn't cross paths with Zombie himself, but I did get to meet the rest of the band at the time.
Fast-forward to July 19, 2014 – this past Saturday night.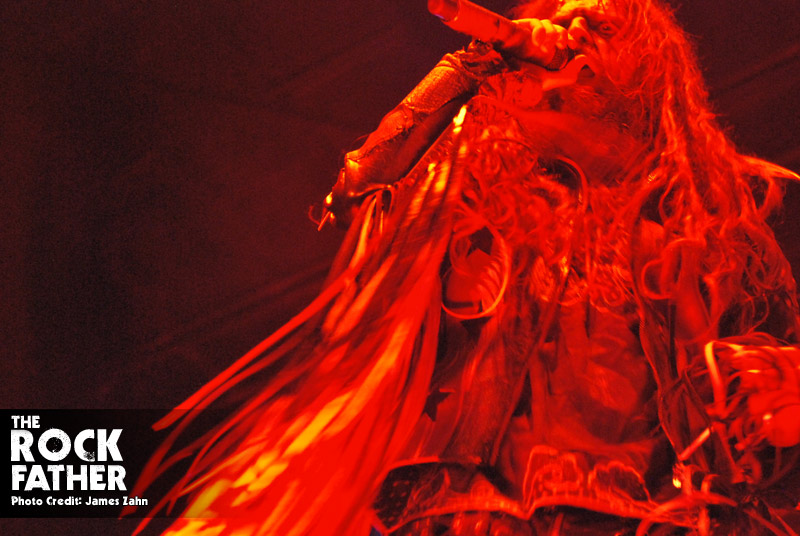 Back in Iowa, where I lived from 1992 to 1996, my former classmates were attending our 20th High School Reunion. I'd started my day by coaching my daughter's Pee Wee Baseball Game from 11-1 and then headed over to Austin's Fuel Arena at the Lake County Fairgrounds for a show that would temporarily halt my self-imposed hiatus from photographing concerts.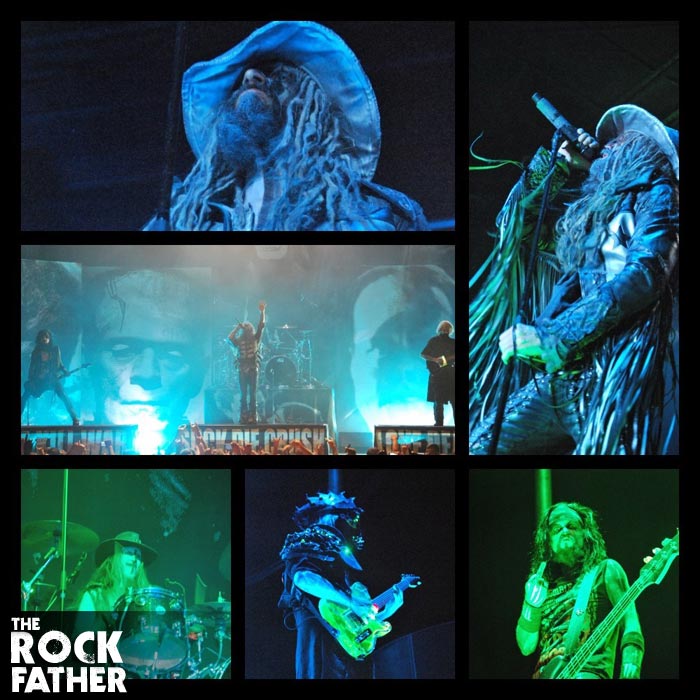 There was something just oddly appropriate about seeing Rob Zombie perform ten minutes from my home on the night that my 20th High School Reunion was taking place… almost exactly 20 years after I first saw Zombie perform live on that eventful night back in Davenport. Yet again, I didn't actually meet the man whose music I've been following for over two decades, but I did get to photograph him from just a few feet away for the very first time.
ROB ZOMBIE | Setlist, July 19, 2014, Grayslake, Illinois
"Teenage Nosferatu Pussy"
"Superbeast"
"Living Dead Girl"
"Dead City Radio"
Ginger Fish Drum Solo
"More Human Than Human"
"Sick Bubblegum"
"House of 1000 Corpses"
"Meet the Creeper"
"Am I Evil" (Diamond Head)
"Never Gonna Stop"
"Thunder Kiss '65"
"School's Out" (Alice Cooper)
"Dragula"
"American Band"
For photos and words on the other bands on the bill, including STONE SOUR, THEORY OF A DEADMAN, THE LAST VEGAS, WILSON, and CILVER, click here.
And how many people made it out to Grayslake? Take a look…
Thanks to Spectacle Entertainment Group, 95 WIIL Rock and FM Entertainment