It's time to let the bodies hit the floor again…
Last month, Drowning Pool's breakthrough debut album, Sinner, officially hit the 20-year mark. Now, Craft Recordings has revealed plans to mark the milestone by releasing the album on vinyl for the very first time.
On Sept. 17, the 20th Anniversary edition of Sinner — the album that features late frontman Dave Williams and spawned hits including "Tear Away," and the platinum-selling "Bodies" will hit stores in three editions: standard black; a band exclusive red edition limited to just 666 copies and available only on its fall tour; and a Revolver exclusive turquoise edition limited to just 1,000 copies.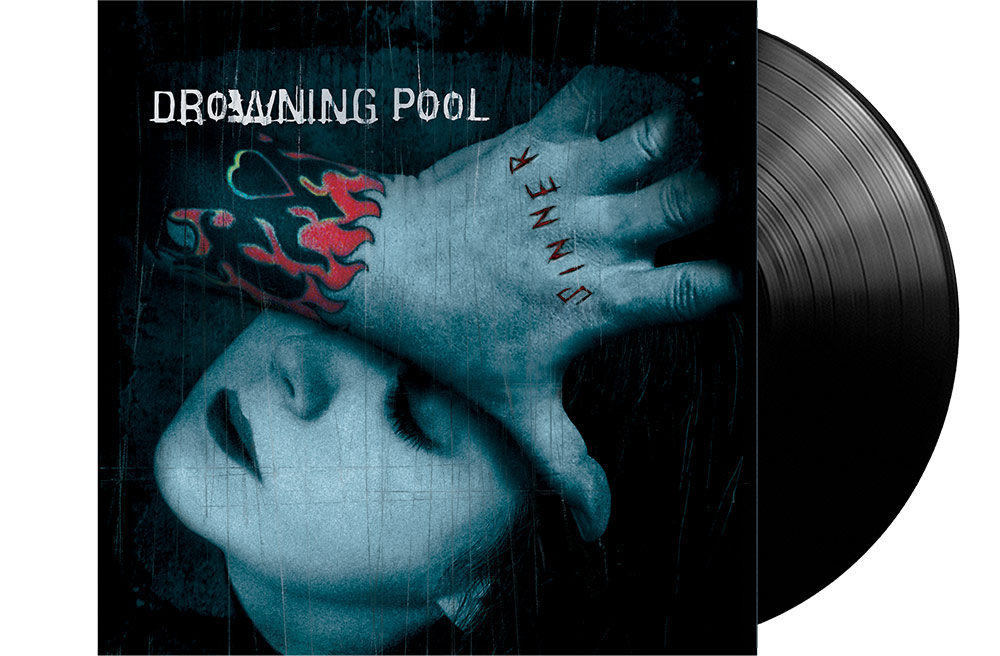 Ahead of the release, the members of Drowning Pool have commented on the album's success and its lasting legacy.
Vocalist Jasen Moreno:
"Sinner is literally perfect. I remember hearing and seeing it all come together," says Moreno whose vocals have led the band since 2012. "We shared the local Dallas scene back then —Drowning Pool and an old band I used to be in — and I'd like to say we kept each other honest and made each other better through competition… but it was never even close. Dave and the guys were the dudes shaping the scene. I shared many stages with Drowning Pool before I was ever their lead singer, and I remember feeling hyped after each performance. I remember believing we'd finally upstaged them. I would have that hope right up until they took the stage and began to play, and then the truth was evident — Dave, Stevie, C.J., and Mike were always multiple steps ahead of any other band on the scene. The Sinner album was magic, and the guys were on fire. I believe that the record is perfect as a whole, full of catchy hooks both vocally and musically. I heard and saw those songs before a million other people around the world did, and I knew back then that Drowning Pool was destined to win. It feels crazy to go from a hater to their frontman, but let that be my testimony to the undeniable force that remains Sinner."
Drummer Mike Luce:
"To be here marking twenty years of Sinner is just mind-blowing. There are so many memories of this record that I'll carry for life," Luce says. "It would require a book to properly express all that's in my head and heart and all that led up to and came out of its release. As a kid growing up and playing drums, I dreamed of being in a band with my buds and maybe someday putting out a record. Well, we did — and it kicked ass! Thanks to all that allowed this messed-up, work-in-progress of a soul to live a dream."
Bassist Stevie Benton:
"Considering the huge success of Sinner, it's hard to believe it has never been released on vinyl," Benton says. "Twenty years later, it's finally happening… it's about time!"
Guitarist C.J. Pierce:
"I can't believe it's been two decades since we introduced the world to 'let the bodies hit the floor' and helped teach young kids and parrots around the world to count to four," Pierce says. "Some of the greatest times and best memories of my life are from when Sinner came out, so this vinyl release is really special. We can't wait to see everyone out at the shows again, and we're looking forward to rocking all these songs, and our newest songs live!"
Drowning Pool will hit the road this fall on the Brothers In Arms tour alongside Ill Nino and (Hed) p.e. Click here to order Sinner on vinyl via Amazon.