The fall cereals and other goodies started hitting grocery stores in July — right on time — and now, the wait is over for pumpkin spice enthusiasts that hold an affection for Ben Affleck's favorite coffee shop: Dunkin' unleashed its 2023 fall menu!
This year's lineup includes the reintroduction of the Pumpkin Spice Signature Latte, Nutty Pumpkin Coffee, and Pumpkin Bakery line-up. And, Dunkin' is rockin' grocery stores again this season with coffee and the Pepperidge Farms Goldfish Dunkin' Pumpkin Spice Grahams.
"Every year, we can practically feel the buzz around our pumpkin lineup," says Jill McVicar Nelson, Chief Marketing Officer at Dunkin'. "It's truly amazing to see our fans light up for this cherished flavor. Catching their excitement both on social media and in our restaurants underscores how much Dunkin' and the fall season go hand in hand. As the pumpkin spice season embodies Dunkin's vibrant spirit, we're all in — splashing our signature shade of orange everywhere we can."
look at me, I am the pumpkin captain now pic.twitter.com/QFY1byZ0hy

— Dunkin' (@dunkindonuts) August 15, 2023
Pumpkin Action at Dunkin'
Pumpkin Spice Signature Latte: Available iced or hot, this latte features notes of sweet pumpkin, vanilla, and fall spices. It's blended with rich espresso and milk, then crowned with whipped cream, caramel drizzle, and a dusting of cinnamon sugar — giving it that quintessential fall shimmer.
Nutty Pumpkin Coffee: This drink combines Dunkin's Original Blend Iced or Hot Coffee with sweet pumpkin, cream, and a touch of hazelnut for the perfect pick-me-up to feel the essence of fall from August onwards.
Pumpkin Swirl is what Dunkin' calls its "most sought-after flavor." As the secret ingredient underpinning the brand's fall beverage line-up, guests can customize their favorite drinks by adding the swirl to hot or iced coffee, espresso drinks, cold brew, or frozen coffee.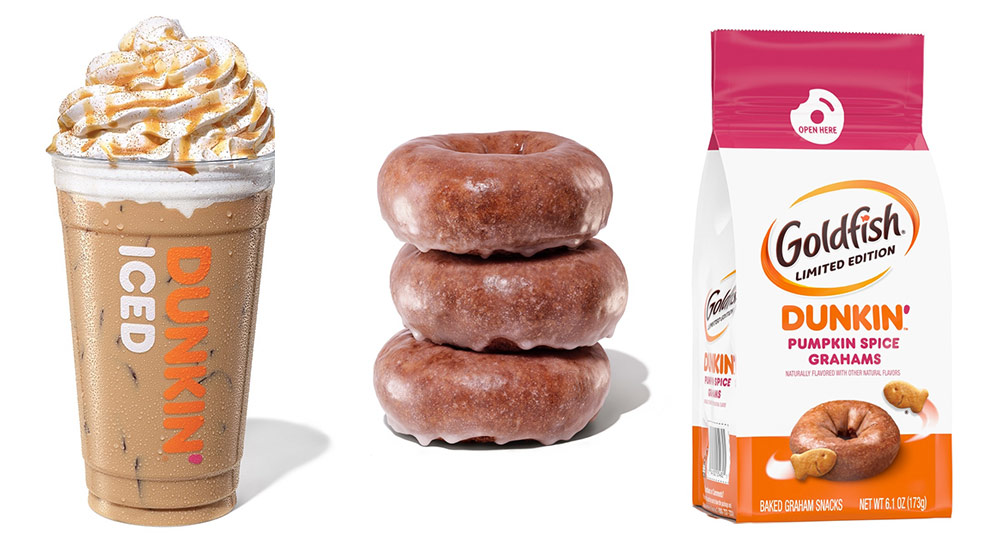 Pumpkin Bakery
The Pumpkin Cake Donut and MUNCHKINS Donut Hole Treats — both glazed to perfection — and the Pumpkin Muffin, overflowing with notes of pumpkin and sweet spices, topped with streusel and a drizzle of white icing, are back in the bakery case.
Yes, Maple Sugar Bacon Season is back, too…
Guests can enjoy the caramelized maple sugar bacon in two distinct ways: savor it on its own as Maple Sugar Snackin' Bacon or in the Maple Sugar Bacon Breakfast Sandwich, featuring a fried egg and white cheddar cheese nestled within a flaky, toasted croissant.
Pumpkin Grooves at the Grocery Store
Limited-edition Goldfish Dunkin' Pumpkin Spice Grahams feature flavor notes of pumpkin, donut glaze, and warm spices, including cinnamon, cloves, and nutmeg. They're back in September alongside Dunkin's Pumpkin K-Cup Pods.
Rock Father HQ Holiday Calendar:
My personal holiday calendar (feel free to adopt or adapt it if you like):
Aug. 15-Oct. 31: Fall/Autumn
Sept. 15-Oct. 31: Overlapping Halloween Season
Nov. 1-Dec. 25: Winter Holidays/Christmas Season
Notes: It is acceptable for in-home holiday decorations to go up on November 1, at which time the playing of holiday music may also begin. Christmas decor specifically should all be removed and put back into storage between December 26-27. If you still have holiday decor up when it hits New Year's, that's just depressing!