Rimac Automobili is joining forces with Bugatti Automobiles to create a new company: Bugatti Rimac.
The Croatian Rimac Automobili was founded in 2009 by Mate Rimac and has grown from a one-man garage-based operation into an international powerhouse for electric hypercar development.
Under the new deal, the newly-formed Rimac Group will be the major shareholder with a 55% stake. Mate Rimac will retain a 37% stake, while Porsche (24%), Hyundai Motor Group (12%), and other investors at (27%) round out the ownership field.
Another new entity — Rimac Technology — will be 100% owned by the Rimac Group and will develop, produce, and supply battery systems, drivetrains, and other EV components to automakers around the world.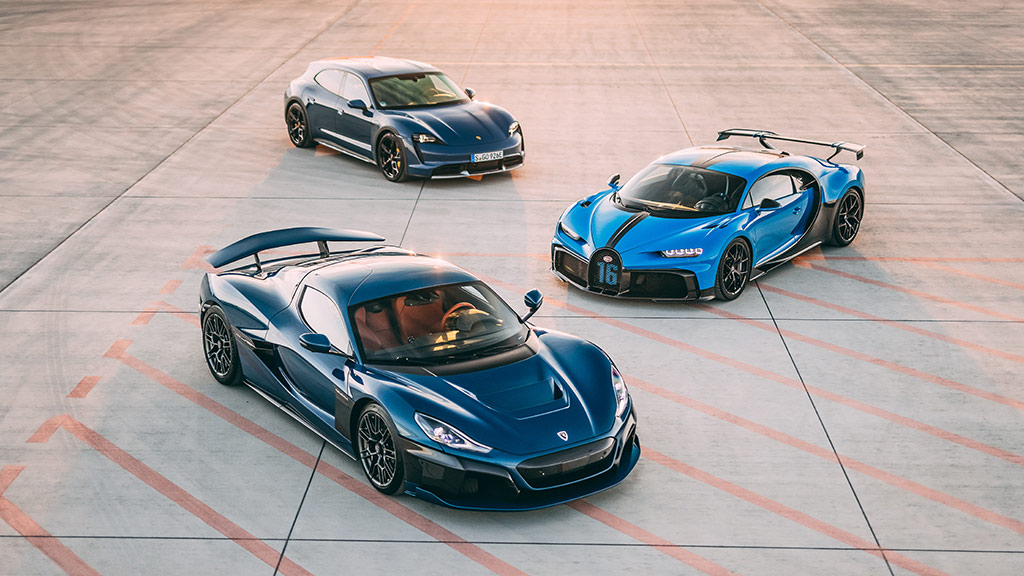 "This is a truly exciting moment in the short, yet rapidly expanding history of Rimac Automobili," says Mate Rimac, Founder and CEO of Rimac Automobili. "We have gone through so much in such a short space of time, but this new venture takes things to a completely new level. Rimac and Bugatti are a perfect match in terms of what we each bring to the table. As a young, agile, and fast-paced automotive and technology company, we have established ourselves as an industry pioneer in electric technologies. With the Nevera, we have also proven that we can develop and manufacture outstanding hypercars, that are not only fast, but also exciting and high-quality. Bugatti, with over a century of experience in engineering excellence, also possesses one of the most exceptional heritage of any car company in history."
A livestream is set to take place today — July 5 — at 2pm ET to showcase the future of the companies and their new endeavors.
"We are combining Bugatti's strong expertise in the hypercar business with Rimac's tremendous innovative strength in the highly promising field of electromobility," says Oliver Blume, Chairman of the Executive Board, Porsche AG. "Bugatti is contributing a tradition-rich brand, iconic products, a loyal customer base, and a global dealer network to the joint venture. In addition to technology, Rimac is contributing new development and organizational approaches."
Moving forward, Mate Rimac will lead the new company as CEO of Rimac Group overseeing both Bugatti Rimac and the new division, Rimac Technology. Bugatti and Rimac will both continue as separate respective brands.
More details can be found at rimac-automobili.com.