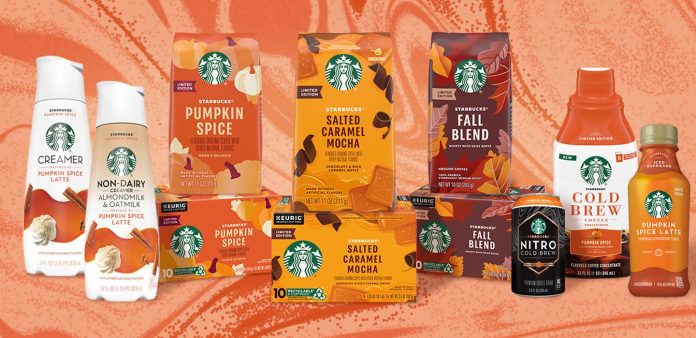 Oh yes, it's almost PSL season. Almost, but not quite.
While The Rock Father's official holiday calendar deems Aug. 15 as the start of the combined fall/autumn season, the fall flavors and pumpkin spice are already flowing.
This week, the folks at Starbucks formally announced that their line of flavored coffees and creamers have made their return to store shelves for a limited time. In addition to the return of some old favorites, two new products are joining the fray this season: Starbucks Pumpkin Cream Nitro Cold Brew and Starbucks Salted Caramel Mocha Flavored Coffee.
SPOILER ALERT: We already have Starbucks Pumpkin Spice K-Cups and Fall Blend here at Rock Father HQ. 
The returning lineup for 2022 includes:
Starbucks Pumpkin Spice Flavored Coffee
Starbucks Pumpkin Spice Cold Brew Concentrate
Starbucks Pumpkin Spice Flavored Creamer
Starbucks Pumpkin Spice Flavored Non-Dairy Creamer
Starbucks Iced Espresso Pumpkin Spice Latte.
Starbucks Fall Blend Coffee
As always the Starbucks coffees are available in bagged grounds and K-Cup versions.
Now I'm on the hunt for some of that Pumpkin Cream Nitro Cold Brew — that sounds great! But what's the release date for Starbucks' Pumpkin Spice Latte this year? Surely #PSL is lurking. Stay tuned.