This feature is brought to you in collaboration with Backyard Discovery.
As a homeowner, there are several things you can do to add value and beauty to your space. One major trend that's been gaining steam in recent years — and for good reason — is extending your living space into the outdoors.
While there are a number of ways to pull it off, I've always been a fan of creating a centerpiece for the action with a permanent or semi-permanent structure such as a gazebo or pergola.
A few years ago, I actually pulled the trigger and purchased a wooden gazebo, but my timing was off — in the midst of the pandemic boom for home and lifestyle products, there was a wait time, and we made an unexpected decision to sell our house and move. That said, I canceled the order and put the project on the back burner until we were settled in our new home.
Fast-forward to this summer and the time was finally right. We're approaching two years in our "forever" home and have been building out our outdoor space so that the entire family — parents, kids, and pups — can have maximum enjoyment for as many days of the year as possible. Like everything, this takes time and funds, so it's been a process. Last year, we replaced the fence and extended our backyard space by extending the fence length by 25 feet. This year we bought a new grill, added a raised garden bed, and finally came back around to the idea of a gazebo.
One thing I really do miss from our old house is the shed. It was my little red barn, and I chronicled that build in collaboration with Backyard Discovery back in 2017. While Backyard Discovery no longer offers sheds, the Kansas-based company has continued to extend its footprint in the world of pergolas, gazebos, playsets, and other outdoor leisure products — a space that it's dominated for more than 30 years.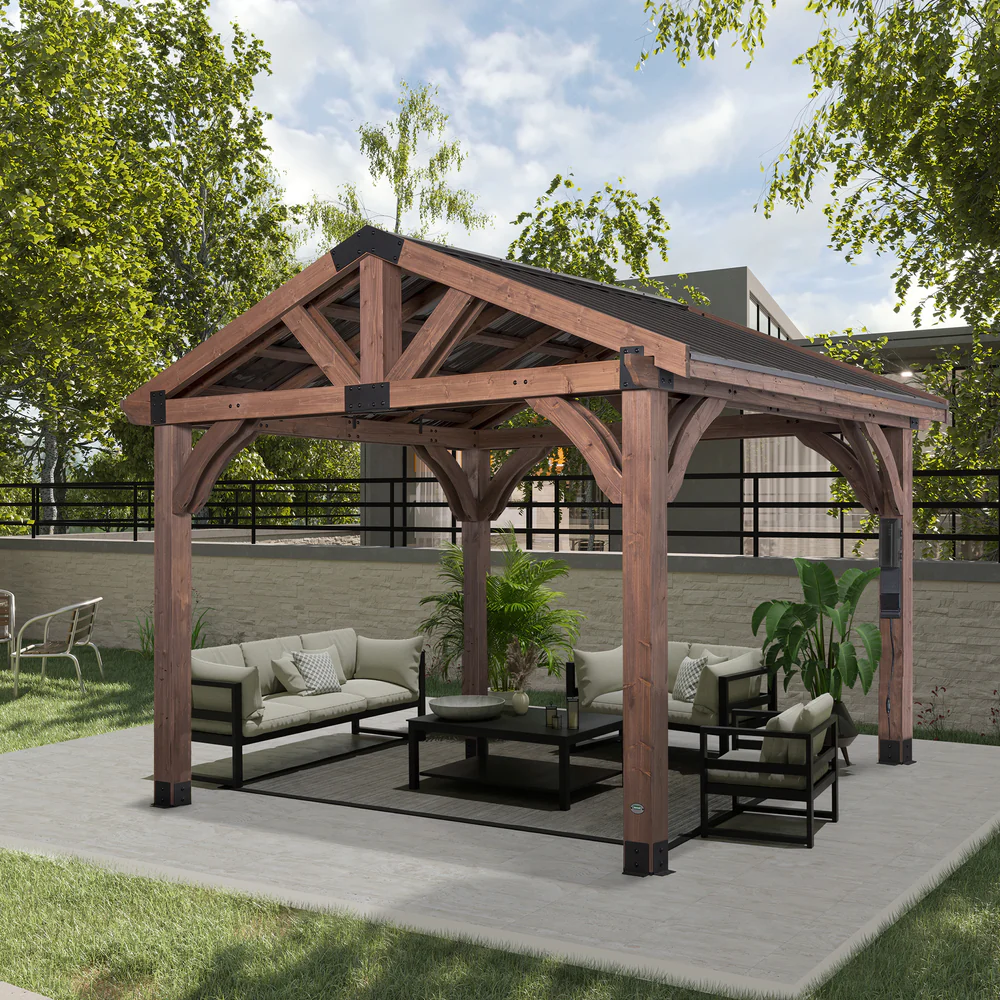 After considering our space, we wanted a gazebo that would fit nicely on our brick patio while allowing ample room on the sides for our grill, garden, fire pit, and sectional seating. The general idea was to place our wrought iron dining table and chairs beneath the gazebo since our patio tends to get direct sunlight for most of each day. With that in mind, we went with Backyard Discovery's Arlington 12′ x 10′ Gazebo with Electric — a peak roof gazebo that made sense for our Illinois climate. If you've ever noticed the different roof styles on ready-to-assemble gazebos, what you might not know is that they each have a different purpose. Backyard Discovery's peak roof offerings allow snow to slide off while being wind rated to withstand gusts of up to 100 mph.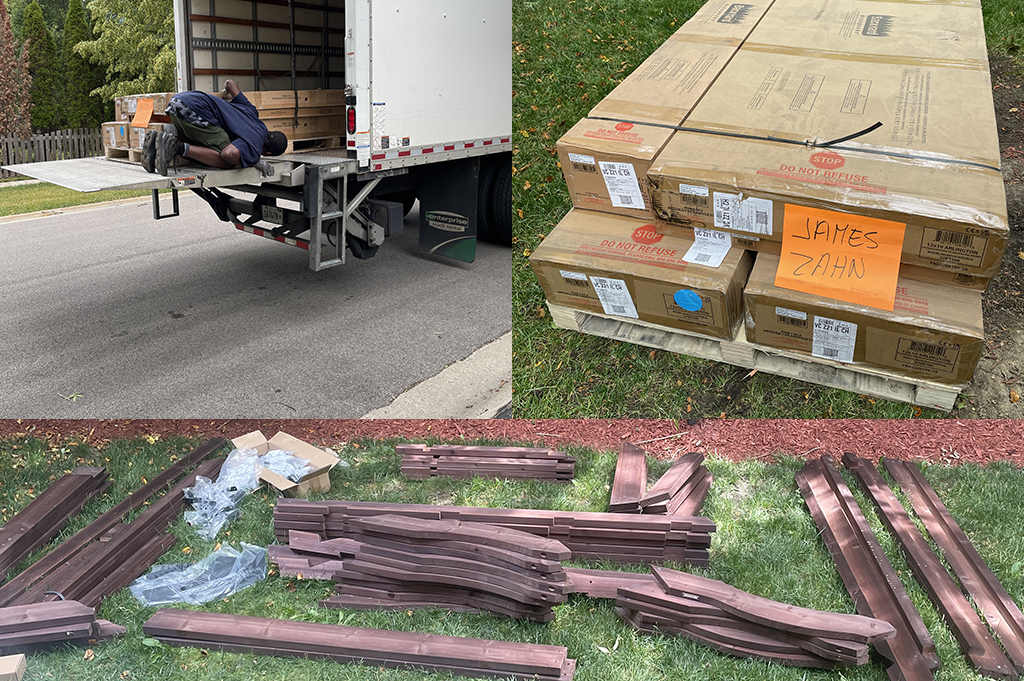 The delivery happened via a local freight carrier — five boxes perched atop a long pallet. I was here to assist the delivery guys in getting the pieces up the driveway.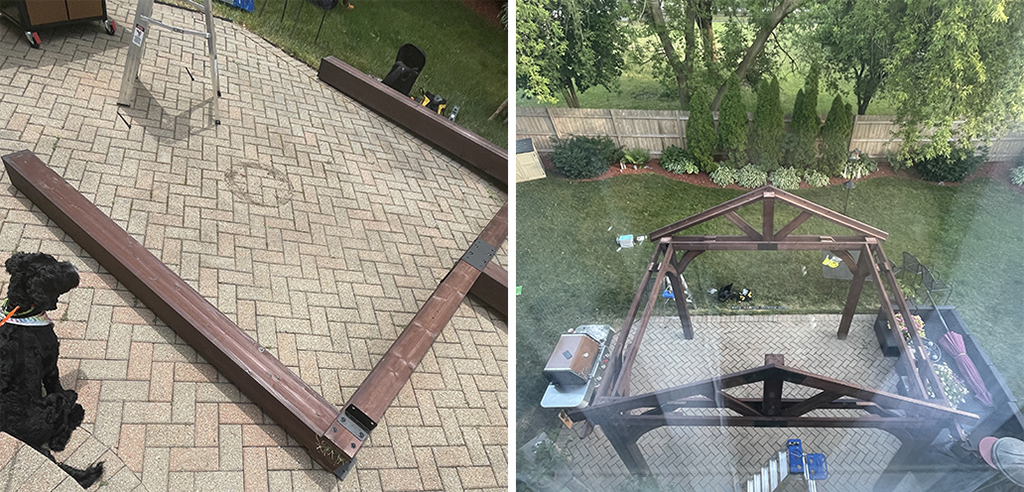 Assembly:
If a gazebo is in your future, I cannot stress this enough: you will need help. Assembling a wooden gazebo is not a one- or two-person job. While it can be done with two people, 3-4 is a better option and you should plan on spending every bit of 9 hours or more to do it. I've heard of people knocking these out in 5-6 hours, but I don't see that as being realistic. With three people, assembly took around 10 hours here and I had to call in my brother-in-law with his hammer drill to help with anchoring the posts into concrete.
Making it Our Own:
While the Arlington Gazebo is beautiful on its own, we wanted to accessorize — perhaps inspired by seeing epic seasonal displays at Costco, Sam's Club, and Home Depot over the years.
We went with the traditional, and very on-trend LED Edison-style string lights from Costco. For a clean look, I used 1 1/4″ Black Cup Hooks from Walmart, one for each bulb. We added an Acoustic Research Brighton Portable Outdoor Wireless Speaker from Costco that pumps out some fantastic sound for our space and includes a multi-setting LED lighting option.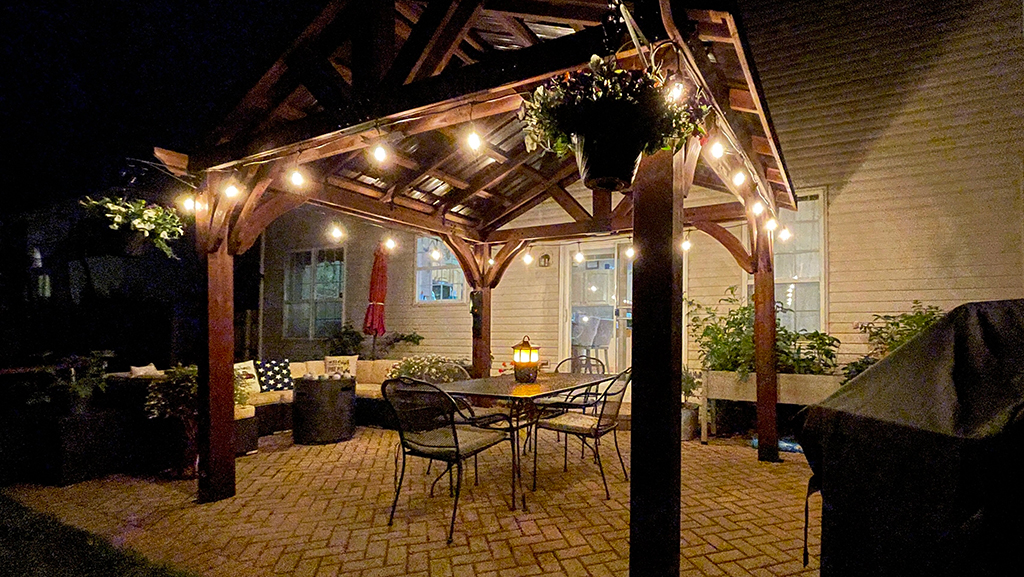 Backyard Discovery's exclusive PowerPort is the perfect hub to power lights, small tools, or electronic devices. We made sure to mount ours on the post closest to the power outlet on the house.
On the front posts, I added hanging basket brackets from Home Depot and adorned them with 10-inch summer petunia baskets.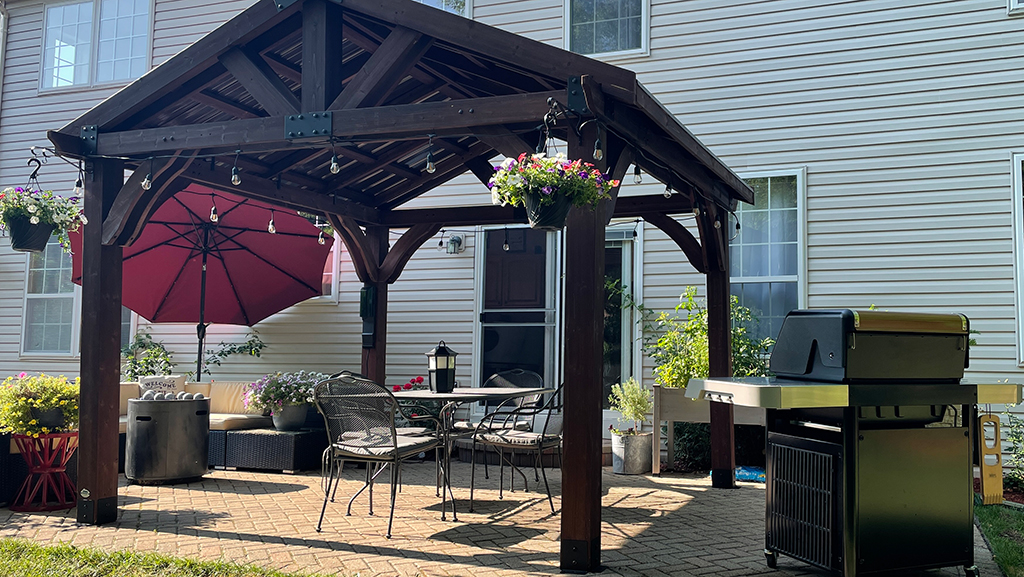 The Finished Project
Our Backyard Discovery Arlington Gazebo is the centerpiece of our yard — home base for meals and entertaining.
It's already serving as an outdoor office (I'm typing this from under the gazebo right now!) and has been a delightful spot to enjoy a morning coffee and a quiet evening with the family.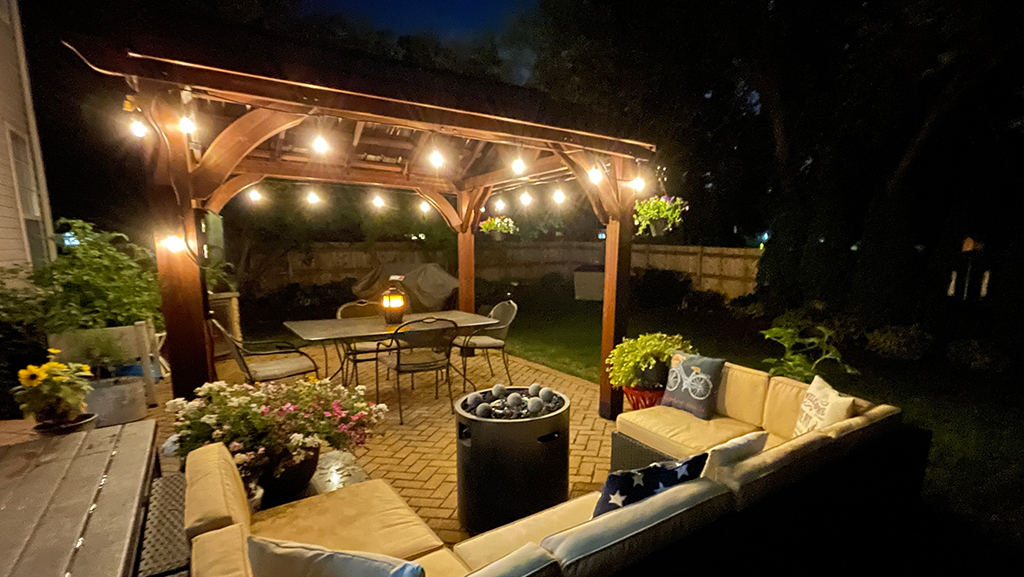 While we'll no doubt spend a ton of time enjoying the gazebo in the summer months, I'm looking forward to extending the seasonality of our space.
As we did with our shed some years back, we'll decorate the gazebo for fall (mums, corn stalks, pumpkins!) and the holidays, and I'm really looking at this as a fine spot to gather.
View this post on Instagram
Looking ahead, my wheels are spinning as to what I might do next… an outdoor fan? Maybe an all-season TV? The possibilities are endless, and I'll be sharing seasonal updates on my Instagram as time goes on. Be sure to give me a follow to see what I'm up to.
Did you enjoy this project? Make plans to do your own and save 15% sitewide at Backyard Discovery with Code JAMESZAHN15 through July 31, 2023.