Dropkick Murphys is dropping a new album on Sept. 30 that is like no other in the band's extensive catalog.
This Machine Still Kills Fascists is a 10-song set that uses Woody Guthrie's "perennial jabs at life" (many of which are from the 1940s and '50s) to create powerful, new, acoustic music that resonates with those living in this modern world. The previously unpublished lyrics were collected by Guthrie's daughter. Check out the album trailer below…
"The project has been a long time in the making. Nora Guthrie thought her father would've got a kick out of us, would've liked us, that we were somewhat kindred spirits so to speak, which to us was a huge honor," says Dropkick Murphys founder Ken Casey.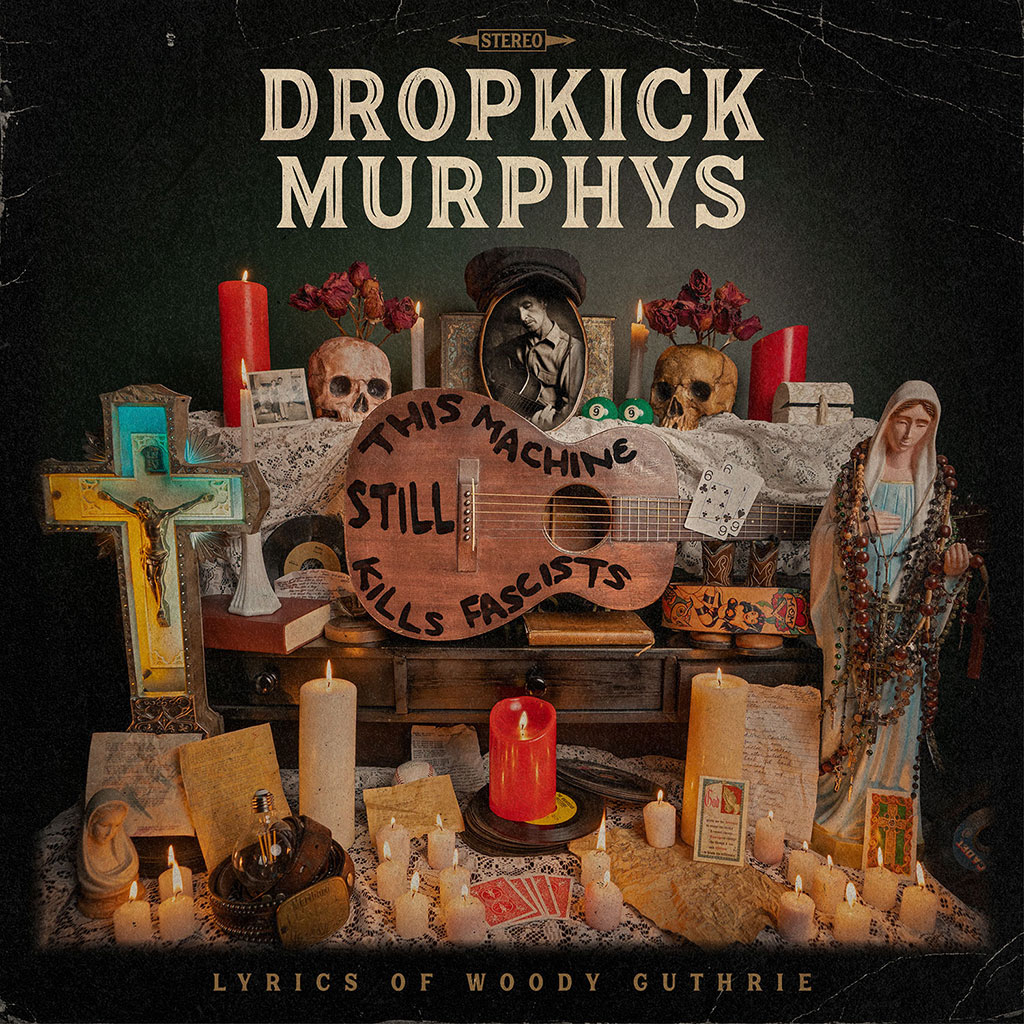 "I collected lyrics on all kinds of topics…lyrics that seemed to be needed to be said — or screamed — today," says Nora Guthrie. "Ken Casey is a master at understanding Woody's lyrics, which can be complicated, long, deadly serious, or totally ridiculous. Dropkick Murphys is capable of delivering them all."
This Machine Still Kills Fascists tracklisting:
"Two 6's Upside Down"
"Talking Jukebox"
"All You Fonies"
"Never Git Drunk No More" (featuring Nikki Lane)
"Ten Times More"
"The Last One" (featuring Evan Felker of Turnpike Troubadours)
"Cadillac, Cadillac"
"Waters Are A'risin"
"Where Trouble Is At"
"Dig A Hole" (featuring Woody Guthrie)
Dropkick Murphys This Machine Still Kills Fascists band members include Ken Casey (lead vocals), Tim Brennan (guitars, tin whistle, accordion, piano, vocals), Jeff DaRosa (guitars, banjo, mandolin, vocals), Matt Kelly (drums, percussion, and vocals), James Lynch (guitars and vocals), and Kevin Rheault (bass).
For more on the new album and DKM's latest touring efforts, check out the band's official site.
Advertisement