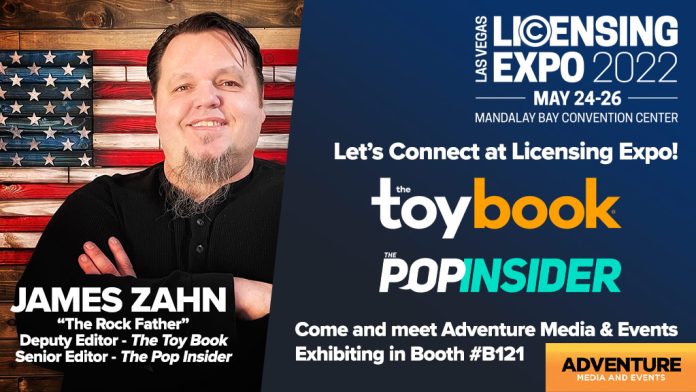 The Adventure Media & Events (AM&E) team is headed to Las Vegas for Licensing Expo, taking place May 24-26, 2022, and I'll be there!
For the first time, the AM&E team will be exhibiting at Licensing Expo with all-new issues of The Toy Book and The Pop Insider making their debut at the show. If you're headed to Las Vegas, visit Booth No. B121 in the Mandalay Bay Resort & Casino Convention Center to meet members of our team and to pick up the new issue.
I've been a part of the AM&E family since 2016 when I joined as a contributor to The Toy Insider, the leading consumer guide to toys, games, and kids' entertainment. I currently serve as Deputy Editor of The Toy Book, the leading trade publication covering the toy industry since 1984; as Senior Editor of The Pop Insider, a source for news, reviews, and features on all things geek reaching fans of all ages and the pop culture industry; and as Senior Editor of The Toy Insider.
Attendees of Licensing Expo can check out the Adventure Media & Events virtual booth here, or find us in Booth No. B121 at the show.
As always, you can connect with me on LinkedIn.